Here at Mailbox Monday, we want to encourage participants to not only share the books they received, but to check out the books others have received. We encourage you to share the books that caught your eye in the comments.
Here are the books that caught our eye this week:
Vicki:
Cooking with Amar'e: 100 Easy Recipes for Pros and Rookies in the Kitchen by Amar'e Stoudemire and Maxcel Hardy III @Savvy Verse & Wit
I love books about food and this is about six-time NBA All-Star Amar Stoudemire learning to become a comfortable, experienced cook when his personal chef Maxcel Hardy III gives in informal cooking lessons.
American Panic by Mark Stein @From L.A. to LA
This non-fiction book traces the history and consequences of American political panics through America's history. It includes the Salem witch trails, communism and gay marriage.
The book also devotes chapters to African Americans, Native Americans, Catholics, Mormons, Jews, Chinese and Japanese, Communists, Capitalists, women, and a highly turbulent but largely forgotten panic over Freemasons.
Leslie:
Twisted by Lynda LaPlante at Sam Still Reading.
This doesn't seem to be available yet in the US, but that won't stop me from putting it on my future to-read list. I enjoy thrillers and this suspenseful standalone about a missing girl sounds like a good one: "While the spiral of media interest in the missing daughter of a well-connected couple heats up, the spotlight turns on the parents who are embroiled in a bitter divorce. Amy's journal surfaces with disturbing entries about her mother's abilities – and also her father's sordid sexual activities."
Abroad by Katie Crouch at Serendipity.
The first line of the description of this book, one I had not heard of until today, was what caught my eye: "The city of Grifonia, Italy, is swarming with secrets—thousands of years of dark, murderous secrets." It's about a young British student who is spending a year abroad who gets involved with a dangerous group of girls. Not my usual type of reading, but sometimes it's good to stretch out a little with something different.
Serena: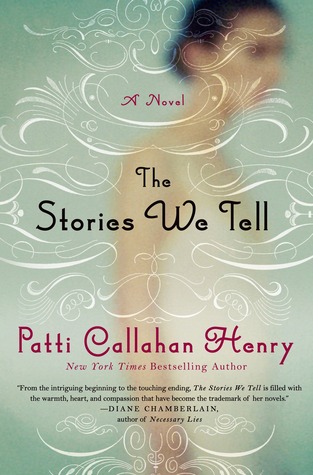 The Stories We Tell by Patti Callahan Henry @Bookfan and @Serendipity
A power couple, Eve and Cooper Morrison, also are involved in businesses that are the perfect juxtaposition between the old and new. However, their lives are not so perfect, but when he and her sister, Willa, are involved in a car crash, questions arise about the event. There is shifting POVs, bringing out the he said-she said aspect of events.  And isn't this cover gorgeous!
Sh*t Rough Drafts by Paul Laudiero @The Busy Mom's Daily
Haven't you always wondered what the rough drafts of classic novels are or what screenplays looked like before they were made into movies?  I know I have.  I would love to see those first drafts and compare them to the ones we know today.  You get a real feel for the creative process in that way.  This book provides a What if for The Great Gatsby, The Hunger Games, MacBeth, The Lord of the Rings, and more.
What books caught your eye this week?