Here at Mailbox Monday, we want to encourage participants to not only share the books they received, but to check out the books others have received. We encourage you to share the books that caught your eye in the comments.
Here are the books that caught our eyes this week:
VICKI:
A Good Marriage by Stephen King @Under My Apple Tree and Bermudaonion
Soon to be a major motion picture starring Kristen Connelly, Joan Allen, and Anthony La Paglia, Stephen King's short story, "A Good Marriage" from Full Dark, No Stars is now available as a stand-alone audio edition!

Bob Anderson, Darcy's husband of more than twenty years, is away on one of his business trips, when his unsuspecting wife looks for batteries in the garage. Her toe knocks up against a box under a worktable and she discovers she doesn't know her husband at all, but rather has been living with a stranger. This horrifying discovery, rendered with bristling intensity, could be the end of what Darcy though was a good marriage…

It's King! Gotta read it!
The Girl On The Train by Paula Hawkins @Bakey's Book Blog
Rachel takes the same commuter train every morning and every night. Every day she rattles over the same track junctions, flashes past the same stretch of cozy suburban homes. And every day she stops at the same signal and she sees the same couple, breakfasting on their roof deck, living the perfect life that Rachel craves for herself—a lifestyle she recently lost. She looks forward to observing this household every morning, even makes up names and narratives for its residents. Then one day Rachel sees someone new in their garden, and soon after, the woman who lived there disappears.

Unable to keep this information to herself, Rachel offers what she knows to the police, and in the process is drawn into the lives of the couple she thought of as Jason and Jess but whose names—she has learned from the news—are really Megan and Scott Hipwell.

But the police accuse Rachel of being unreliable, and it's true that her memories can't always be trusted. Plus there are the stories that her ex-husband's new wife has been spreading about her. By the time Megan's body is found, Rachel is in over her head, intricately entangled in the details of the investigation, as well as in the lives of everyone involved. Has she put others in danger? Has she done more harm than good?

Doesn't that sound like a really good mystery? Yeeess!
LESLIE: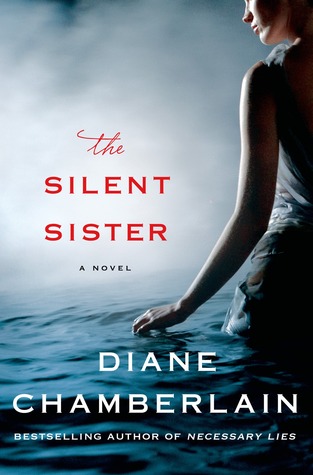 The Silent Sister by Diane Chamberlain @Posting For Now and Luxury Reading.
Riley MacPherson has spent her entire life believing that her older sister Lisa committed suicide as a teenager. Now, over twenty years later, her father has passed away and she's in New Bern, North Carolina cleaning out his house when she finds evidence to the contrary. Lisa is alive. Alive and living under a new identity.

I always like a good mystery and this one sounds inviting.
Business in Blue Jeans by Susan Baroncini-Moe @Library of Clean Reads.
…whether you want to work from home, you're looking for business ideas, or you want to start a business or grow one, no matter where you are in your process, there's something here for you.

This definitely caught the eye of the business woman in me. The days of a long, leisure retirement are not going to happen for many of us. The extra income from a freelance or home-based business, preferably something I enjoy, is one solution. Now, how do I do that?
SERENA:
Jane and the Twelve Days of Christmas: Being a Jane Austen Mystery by Stephanie Barron @Luxury Reading
Most people who know me, know I love Jane Austen.  I've read so many spin-offs and re-imaginings, but I can't seem to get enough, even if some are not as well done as others.  This one is about Jane Austen and her Christmastime festivities that are one day interrupted by a mysterious death.  Of course the guests are snowbound with a killer, and Jane is determined to uncover who the murderer is.  I love mysteries that are well done, and if you throw in Jane Austen, I'm bound to love it, if its done well.
Pen & Ink: Tattoos and the Stories Behind Them by Isaac Fitzgerald, illustrated by Wendy MacNaughton, introduced by Cheryl Strayed. @Under My Apple Tree
I love checking out what other people have selected for tattoos, and they often have great stories behind them.  I know this from experience, but I cannot wait to see what stories these authors have collected and what the corresponding tattoos are.  It's interesting to see what the motivation behind tattoos is for some people, and there are a wide spectrum of answers you'll get if you ask.  Plus my husband and I have tattoos of our own — not too many — but enough to have a story or two.
What books caught your eyes this week?