Here at Mailbox Monday, we want to encourage participants to not only share the books they received, but to check out the books others have received. We encourage you to share the books that caught your eye in the comments.
Here are the books that caught our eyes this week:
VICKI:
What You Left Behind by Samantha Hayes @Musings from Sri Lanka
Five years ago, nineteen-year-old Simon Hawkeswell hanged himself in his family home in Warwickshire, England. The reasons behind his choice remain in devastating mystery, and what's worse, not long after his death a wave of "sympathetic" suicides among local teens rocked the community. But that was then. A short-lived, sinister trend that's faded into oblivion. Or so everyone thought. When a young man is kidded in a freak motorbike accident and the authorities find a suicide note on him, the nightmare of repeat suicides once again threatens their village.

I love this kind of mystery/thriller.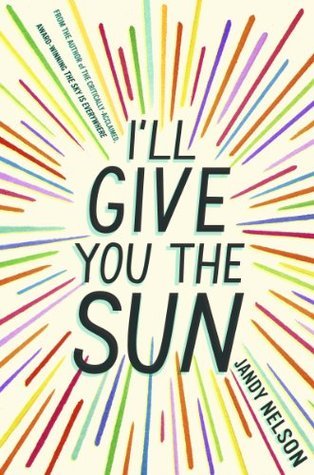 I'll Give You the Sun by Jandy Nelson @The Reading Date
Jude and her twin brother, Noah, are incredibly close. At thirteen, isolated Noah draws constantly and is falling in love with the charismatic boy next door, while daredevil Jude cliff-dives and wears red-red lipstick and does the talking for both of them. But three years later, Jude and Noah are barely speaking. Something has happened to wreck the twins in different and dramatic ways . . . until Jude meets a cocky, broken, beautiful boy, as well as someone else—an even more unpredictable new force in her life. The early years are Noah's story to tell. The later years are Jude's. What the twins don't realize is that they each have only half the story, and if they could just find their way back to one another, they'd have a chance to remake their world.

This book grabbed my attention because I have a twin brother and growing up we were very close. Then we each left home and that changed our relationship. He went into the Marines right out of high school and made a career out of it so he was always in another state or country. We didn't get to see each other very often, and see each other less now. I miss being able to see him and spend time with him like we used to. I want to see if Jude and Noah find their way back to each other.
LESLIE:
Hello From the Gillespies by Monica McInerney @The Reading Date and Serendipity.
For the past thirty-three years, Angela Gillespie has sent to friends and family around the world an end-of-the-year letter titled "Hello from the Gillespies." It's always been cheery and full of good news. This year, Angela surprises herself—she tells the truth….

As the weather turns cold and Christmas approaches, I try to get into the spirit and read a holiday book – but I usually choose something a little different than a traditional story. This sounds like a fun spin on those newsletters everyone loves to hate.
The Marshmallow Test by Walter Mischel @BermudaOnion
Renowned psychologist Walter Mischel, designer of the famous Marshmallow Test, explains what self-control is and how to master it. A child is presented with a marshmallow and given a choice: Eat this one now, or wait and enjoy two later. What will she do? And what are the implications for her behavior later in life?

Sounds like a fascinating look at behavior – and whether or not it can be molded or changed. This would be a good one for my book club. (I'd wait and take two marshmallows!)
SERENA:
Shadows in the Vineyard by Maximillian Potter @Bermudaonion
I just love stories about vineyards and I love a good mystery. This combines both for me:

In January 2010, Aubert de Villaine, the famed proprietor of the Domaine de la Romanée-Conti, the tiny, storied vineyard that produces the most expensive, exquisite wines in the world, received an anonymous note threatening the destruction of his priceless vines by poison-a crime that in the world of high-end wine is akin to murder-unless he paid a one million euro ransom. Villaine believed it to be a sick joke, but that proved a fatal miscalculation and the crime shocked this fabled region of France. The sinister story that Vanity Fair journalist Maximillian Potter uncovered would lead to a sting operation by some of France's top detectives, the primary suspect's suicide, and a dramatic investigation. This botanical crime threatened to destroy the fiercely traditional culture surrounding the world's greatest wine.
Moriarty by Anthony Horowitz @I'd Rather Be at the Beach and Book Dilettante
It's Sherlock Holmes and sanctioned by Doyle's estate, what more convincing do you need?

The game is once again afoot in this thrilling mystery from the bestselling author of The House of Silk, sanctioned by the Conan Doyle estate, which explores what really happened when Sherlock Holmes and his arch nemesis Professor Moriarty tumbled to their doom at the Reichenbach Falls.
What books caught your eye this week?