Here at Mailbox Monday, we want to encourage participants to not only share the books they received, but to check out the books others have received. We encourage you to share the books that caught your eye in the comments.
Here are the books that caught our eye this week:
Leslie: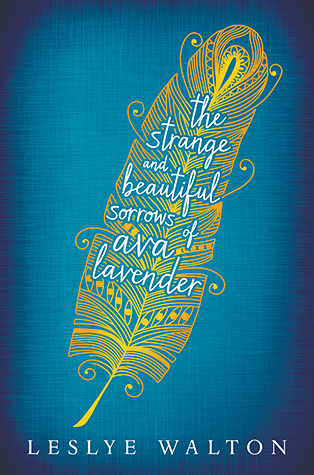 The Strange and Beautiful Sorrows of Ava Lavender by Leslye Walton @The Reading Date
Foolish love appears to be the Roux family birthright, an ominous forecast for its most recent progeny, Ava Lavender. Ava—in all other ways a normal girl—is born with the wings of a bird. In a quest to understand her peculiar disposition and a growing desire to fit in with her peers, sixteen-year old Ava ventures into the wider world, ill-prepared for what she might discover and naïve to the twisted motives of others. Others like the pious Nathaniel Sorrows, who mistakes Ava for an angel and whose obsession with her grows until the night of the Summer Solstice celebration.

It would be hard for me to pass up a book about a girl with the wings of a bird. A delightful thought even if it is only fantasy!
The Weaver Fish by Robert Edeson @Booklover Book Reviews
Cambridge linguist Edvard Tøssentern, presumed dead, reappears after a balloon crash. When he staggers in from a remote swamp, gravely ill and swollen beyond recognition, his colleagues at the research station are overjoyed. But Edvard's discovery about a rare giant bird throws them all into the path of an international crime ring.

The Weaver Fish is a gripping adventure story. Set on the island nation of Ferendes in the South China Sea, this book's sound science and mathematical games will make you question all that you know, or think you know, about weaver fish, giant condors, the infamous tornado-proof Reckles® Texan hat, and much much more. 

Rare giant birds, science and mathematics…. it sounds a little strange but I bet it's a book I'd enjoy.
Serena:
The Red Notebook by Antoine Laurain, translated by Jane Aitken and Emily Boyce @BermudaOnion and Luxury Reading
Heroic bookseller Laurent Letellier comes across an abandoned handbag on a Parisian street. There's nothing in the bag to indicate who it belongs to, although there's all sorts of other things in it. Laurent feels a strong impulse to find the owner and tries to puzzle together who she might be from the contents of the bag. Especially a red notebook with her jottings, which really makes him want to meet her. Without even a name to go on, and only a few of her possessions to help him, how is he to find one woman in a city of millions?

How can you resist a mystery that involves a bookseller?  I know I can't.
Black Light by K A Bedford @Booklover Book Reviews
Ruth Black is an English novelist left widowed by the mysterious death of her husband during the Great War. She immigrates to Australia and settles in the sleepy coastal town of Pelican River to repair her broken heart and work on her next novel. But her quiet life is thrown into disarray when Aunt Julia arrives with an urgent, dreadful message. Ruth's life is in danger and the threat is from a source not entirely of this world. With the assistance of her butler Rutherford, and her good friend the inventor Gordon Duncombe, Ruth finds herself caught up in a hair-raising race to defy her impending doom.

I love books set at the time of WWI and this one involves an author who tries to mend her broken heart by moving to Australia.  I cannot resist.
What books caught your eye this week?