I'm so glad I was able to find a few minutes to get the mailbox post up this weekend, even as we had a birthday bash for our now 4-year-old girl!  How time flies.  She had a great time with friends, and of course, a My Little Pony birthday cake and decorations.
But I digress, we're here to talk about books.
Here at Mailbox Monday, we want to encourage participants to not only share the books they received, but to check out the books others have received.We encourage you to share the books that caught your eye in the comments.
Here are the books that caught our eye this week:
Leslie:
Born with Teeth, A Memoir by Kate Mulgrew @BermudaOnion.
We know Kate Mulgrew for the strong women she's played–Captain Janeway on Star Trek; the tough-as-nails "Red" on Orange is the New Black. Now, we meet the most inspiring and memorable character of all: herself. By turns irreverent and soulful, laugh-out-loud funny and heart-piercingly sad, BORN WITH TEETH is the breathtaking memoir of a woman who dares to live life to the fullest, on her own terms.

I'm a Trek fan and I didn't know Kate Mulgrew wrote a memoir. Should be interesting!
Girl in the Moonlight by Charles Dubow @Book Dilettante.
The author of Indiscretion returns with a scorching tale of love, passion, and obsession, about one man's all-consuming desire for a beautiful, bewitching, and beguiling woman.

Since childhood, Wylie Rose has been drawn to the charming, close-knit Bonet siblings. But none affected him more than the enchanting Cesca, a girl blessed with incandescent beauty and a wild, irrepressible spirit.

Growing up, Wylie's friendship with her brother, Aurelio, a budding painter of singular talent, brings him near Cesca's circle. A young woman confident in her charms, Cesca is amused by Wylie's youthful sensuality and trusting innocence. Toying with his devotion, she draws him closer to her fire—ultimately ruining him for any other woman.

Anyone else notice that a lot of books have the word 'girl' in the title?
Vicki: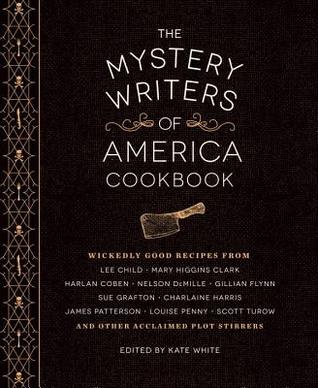 The Mystery Writers of America Cookbook by assorted mystery writers @Bermudaonion
The Mystery Writers of America have joined forces to deliver this superb collection of more than 100 wickedly good recipes. From Mary Higgins Clark's Game Night Chili and Harlan Coben's Crab Meat Dip to Scott Turow's Innocent Frittata and Kathy Reich's Shrimp Scampi, this cookbook offers one tasty treat after another. Complete with a glamorous art-deco design and intriguing sidebars on the surprising—and sometimes deadly—links between food and foul play, this is the ultimate cookbook for crime aficionados.
Daughter by Jane Shemilt @Tribute Books Mama
Jenny is a successful family doctor, the mother of three great teenagers, married to a celebrated neurosurgeon.

But when her youngest child, fifteen-year-old Naomi, doesn't come home after her school play, Jenny's seemingly ideal life begins to crumble. The authorities launch a nationwide search with no success. Naomi has vanished, and her family is broken.

As the months pass, the worst-case scenarios—kidnapping, murder—seem less plausible. The trail has gone cold. Yet for a desperate Jenny, the search has barely begun. More than a year after her daughter's disappearance, she's still digging for answers—and what she finds disturbs her. Everyone she's trusted, everyone she thought she knew, has been keeping secrets, especially Naomi. Piecing together the traces her daughter left behind, Jenny discovers a very different Naomi from the girl she thought she'd raised.
Serena:
The Body Electric by Beth Revis @Infinite Curio
Ella Shepherd has dedicated her life to using her unique gift—the ability to enter people's dreams and memories using technology developed by her mother—to help others relive their happy memories.

But not all is at it seems.

Ella starts seeing impossible things—images of her dead father, warnings of who she cannot trust. Her government recruits her to spy on a rebel group, using her ability to experience—and influence—the memories of traitors. But the leader of the rebels claims they used to be in love—even though Ella's never met him before in her life. Which can only mean one thing…
The first thing that attracted me was the cover, but I also enjoy these books about rebels and memory influencing. Couldn't resist this one this week.
The Cherry Harvest by Lucy Sanna @Book Dilettante
A coming-of-age story and love story, laced with suspense, which explores a hidden side of the home front during World War II, when German POWs were put to work in a Wisconsin farm community . . . with dark and unexpected consequences.
WWII books are always was draw for me, and I like to learn about aspects that I'm not as familiar with, like German POW camps in the United States.
What books caught your eyes this week?