Here at Mailbox Monday, we want to encourage participants to not only share the books they received, but to check out the books others have received.We encourage you to share the books that caught your eye in the comments.
Here are the books that caught our eye this week:
Leslie:
Under a Dark Summer Sky by Vanessa Lafaye @Kim's Cozy Book Nook
Heron Key is already weighed down with secrets when a random act of violence and a rush to judgment viscerally tear the town apart. As the little island burns under the sun and the weight of its inhabitants' secrets, a devastating storm approaches, matching the volatile atmosphere in the town with the unstable sky above.

Beautifully written and seductive, Under a Dark Summer Sky is at once a glorious love story, a fascinating slice of social history, and a mesmerizing account of what it's like to be in the eye of a hurricane.
This just sounds so good!
If She Did It by Jessica Treadway @Sam Still Reading

When Dawn introduces her family to her new boyfriend, Rud, they hide their unsettled feelings because they're glad that Dawn, always an awkward child, seems to have finally blossomed.

Then Dawn's parents are savagely beaten in their own bed, and though Hanna survives, Rud stands trial for Joe's murder. Claiming her boyfriend's innocence, Dawn initially estranges herself from everyone she knows, but when Rud wins an appeal, Dawn returns home saying she wants to support her mother.

Hanna knows that if she could only remember the details of that traumatic night, she could ensure her husband's murderer remains in jail. But Hanna hadn't realised that those memories may cause her to question everything she thought she knew about her daughter…
Thrillers…. I'm always drawn to the thrillers.
Vicki:
Finding Jake by Bryan Reardon @The Reading Date
While his successful wife goes off to her law office each day, Simon Connolly takes care of their kids, Jake and Laney. Now that they are in high school, the angst-ridden father should feel more relaxed, but he doesn't. He's seen the statistics, read the headlines. And now, his darkest fear is coming true. There has been a shooting at school.

Simon races to the rendezvous point, where he's forced to wait. Do they know who did it? How many victims were there? Why did this happen? One by one, parents are led out of the room to reunite with their children. Their numbers dwindle, until Simon is alone.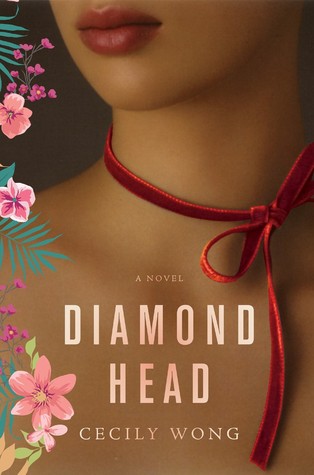 Diamond Head by Cecily Wong @Bermudaonion
At the turn of the nineteenth-century, Frank Leong, a fabulously wealthy shipping industrialist, moves his family from China to the island of Oahu. But something ancient follows the Leongs to Hawaii, haunting them. The parable of the red string of fate, the cord which binds one intended beloved to her perfect match, also punishes for mistakes in love, passing a destructive knot down the family line.
When Frank is murdered, his family is thrown into a perilous downward spiral. Left to rebuild in their patriarch's shadow, the surviving members of the Leong family try their hand at a new, ordinary life, vowing to bury their gilded past. Still, the island continues to whisper—fragmented pieces of truth and chatter, until a letter arrives two decades later, carrying a confession that shatters the family even further.
Serena:
Mommy & Me Bake by DK @Cindy's Love of Books
Is your child a budding chef, always wanting to help in the kitchen? Do you want to encourage your child's cooking aspirations, but need recipes that are safe for children and things that you can cook together? Look no further than Mommy & Me Bake, the cookbook designed to offer parent and child the opportunity to work together as a team while teaching basic baking skills. From simple kneading and mixing to creating whimsical designs and decorations that can be customized according to the creativity of your little chef, Mommy & Me Bake is designed to encourage experimentation, build self-esteem in your child, incorporate the silliness of cooking with a child, and encourage bonding and the joy of working together as parent and child. Every single recipe in Mommy & Me Bake is designed to teach, to be fun for children, and to taste delicious, so your child can be proud to share finished recipes at the family table or with friends!
My daughter loves to help out in the kitchen, and this sounds perfect for us.
The Leftovers by Tom Perrotta @The Infinite Curio
What if — whoosh, right now, with no explanation — a number of us simply vanished? Would some of us collapse? Would others of us go on, one foot in front of the other, as we did before the world turned upside down? That's what the bewildered citizens of Mapleton, who lost many of their neighbors, friends and lovers in the event known as the Sudden Departure, have to figure out. Because nothing has been the same since it happened — not marriages, not friendships, not even the relationships between parents and children.
This sounds fantastic, and I cannot imagine what happened to these people. I'd love to see why they disappeared.
What books caught your eyes this week?