Here at Mailbox Monday, we want to encourage participants to not only share the books they received, but to check out the books others have received.We encourage you to share the books that caught your eye in the comments.
Here are the books that caught our eye this week:
LESLIE:
Night Night, Sleep Tight by Hallie Ephron @Rainy Days and Mondays
From the award-winning author of There Was an Old Woman comes a riveting tale of domestic noir, infused with old Hollywood folklore and glamour, set in a town rife with egotism and backstabbing and where fame and infamy are often interchangeable.

Los Angeles 1986: When Deirdre Unger arrived in Beverly Hills to help her bitter, disappointed father sell his dilapidated house, she discovers his lifeless body floating face down in the swimming pool. At first, Deirdre assumes her father's death was a tragic accident. But the longer she stays in town, the more she suspects that it is merely the third act in a story that has long been in the making.
The Dead Lands by Benjamin Percy @The Reading Date
In Benjamin Percy's new thriller, a post-apocalyptic reimagining of the Lewis and Clark saga, a super flu and nuclear fallout have made a husk of the world we know. A few humans carry on, living in outposts such as the Sanctuary-the remains of St. Louis-a shielded community that owes its survival to its militant defense and fear-mongering leaders.

Then a rider comes from the wasteland beyond its walls. She reports on the outside world: west of the Cascades, rain falls, crops grow, civilization thrives. But there is danger too: the rising power of an army that pillages and enslaves every community they happen upon.
VICKI:
French Coast by Anita Hughes @The Reading Date
Serena has the job she's always dreamed of and Chase, the man her heart never dared to. As a new editor at Vogue, she bags the biggest interview of the year with Yvette Renault, the infamous former editor of French Vogue, in The Carlton-InterContinental Hotel during the Cannes Film Festival. She eagerly jets off to France while Chase stays home, working with her father, a former senator, on his upcoming mayoral campaign.

Everything feels unbelievably perfect…until it doesn't.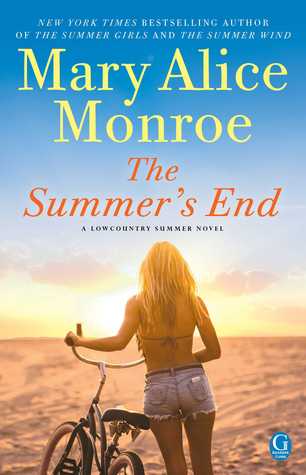 The Summer's End by Mary Alice Monroe @Posting for Now and Bermudaonion
It is summer's end and Sea Breeze, the family's beloved estate on Sullivan's Island, must be sold. It is an emotional time of transition as Mamaw and the three sisters each must face loss and find a new place in the world.

Harper, the youngest sister, arrived at Sea Breeze intending to stay only a weekend, but a rift with her wealthy, influential mother left her without direction or a home. During this remarkable summer, free from her mother's tyranny and with the help of her half sisters, Harper discovered her talents and independent spirit.

But summer is ending, and the fate of Sea Breeze hinges on Harper's courage to decide the course of her own life. To do so she must release her insecurities and recognize her newfound strengths. She must accept love fully into her life—the love of Mamaw, Carson, and Dora, the love of Sea Breeze and the lowcountry, and most of all, the love of a Wounded Warrior who has claimed her heart.
SERENA:
Donna Bell's Bake Shop: Recipes and Stories of Family, Friends, and Food by Pauley Perrette, Darren Greenblatt, and Matthew Sandusky @I'd Rather Be at the Beach
The heartwarming story of how NCIS star Pauley Perrette and her two best friends created a Southern-style bake shop in Manhattan, a celebration of love and friendship with gorgeous photographs and delicious recipes.

Nestled in the heart of midtown New York is a little shop with a big story. An all-natural bake shop that specializes in Southern baked goods, Donna Bell's is owned by Pauley Perrette, the actress who plays Abby Sciuto on CBS's NCIS and her two best friends, Darren Greenblatt and Matthew Sandusky. It was named in honor of Pauley's late mother, who is the beloved inspiration for everything they bake.
I just love NCIS and Abby Sciuto, but Pauley Perrette is awesome in all the interviews I've seen.  I love bakeries and this sounds like a bakery of love.
The Rabbit Back Literature Society by Pasi Ilmari Jääskeläinen, translated by Lola Rogers @Sam Still Reading
A highly contagious book virus, a literary society and a Snow Queen-like disappearing author 'She came to realise that under one reality there's always another. And another one under that.' Only very special people are chosen by children's author Laura White to join 'The Society', an elite group of writers in the small town of Rabbit Back. Now a tenth member has been selected: Ella, literature teacher and possessor of beautifully curving lips. But soon Ella discovers that the Society is not what it seems. What is its mysterious ritual, 'The Game'? What explains the strange disappearance that occurs at Laura's winter party, in a whirlwind of snow? Why are the words inside books starting to rearrange themselves? Was there once another tenth member, before her? Slowly, disturbing secrets that had been buried come to light… In this chilling, darkly funny novel, the uncanny brushes up against the everyday in the most beguiling and unexpected of ways.
This will be a great addition to those thrillers I've been reading that are translations and this is translated from Finnish, which should be interesting since I haven't come across many, if any, of those.
What books caught your eyes this week?