At Mailbox Monday we encourage participants to not only share the books they received, but to check out the books others have received.
Every Wednesday we will each share two books that caught our eye from that week's Mailbox Monday.
We encourage you to share the books that caught your eye in the comments.
VICKI:
Pretty Baby by Mary Kubica @Rainy Days And Mondays
She sees the teenage girl on the train platform, standing in the pouring rain, clutching an infant in her arms. She boards a train and is whisked away. But she can't get the girl out of her head…

Heidi Wood has always been a charitable woman: she works for a nonprofit, takes in stray cats. Still, her husband and daughter are horrified when Heidi returns home one day with a young woman named Willow and her four-month-old baby in tow. Disheveled and apparently homeless, this girl could be a criminal—or worse. But despite her family's objections, Heidi invites Willow and the baby to take refuge in their home.

Heidi spends the next few days helping Willow get back on her feet, but as clues into Willow's past begin to surface, Heidi is forced to decide how far she's willing to go to help a stranger. What starts as an act of kindness quickly spirals into a story far more twisted than anyone could have anticipated.
I can understand wanting to help someone, but the way things are today, I can't imagine taking a complete stranger into my home. The last sentence in the blurb hooked me.
The Fixer by Joseph Finder @Under My Apple Tree
When Rick Hoffman loses his job and apartment, his only option is to move back into—and renovate—the home of his miserable youth, now empty and in decay since his father' stroke. But when he starts to pull it apart, he makes an electrifying discovery that will put his life in peril—and change everything he thought he knew about his father.
I love books about relationships, and want to find out what Rick discovers about his dad.
LESLIE: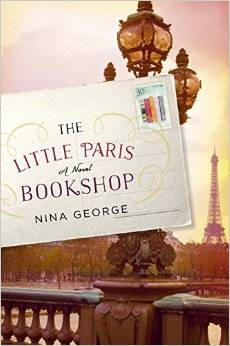 The Little Paris Bookshop by Nina George @Sam Still Reading.
Monsieur Perdu calls himself a literary apothecary. From his floating bookstore in a barge on the Seine, he prescribes novels for the hardships of life. Using his intuitive feel for the exact book a reader needs, Perdu mends broken hearts and souls. The only person he can't seem to heal through literature is himself; he's still haunted by heartbreak after his great love disappeared. She left him with only a letter, which he has never opened.

After Perdu is finally tempted to read the letter, he hauls anchor and departs on a mission to the south of France, hoping to make peace with his loss and discover the end of the story. Joined by a bestselling but blocked author and a lovelorn Italian chef, Perdu travels along the country's rivers, dispensing his wisdom and his books, showing that the literary world can take the human soul on a journey to heal itself.
It's a book about bookstores and books!
Finders Keepers by Stephen King @Bakey's Book Blog
"Wake up, genius." So begins King's instantly riveting story about a vengeful reader. The genius is John Rothstein, an iconic author who created a famous character, Jimmy Gold, but who hasn't published a book for decades. Morris Bellamy is livid, not just because Rothstein has stopped providing books, but because the nonconformist Jimmy Gold has sold out for a career in advertising. Morris kills Rothstein and empties his safe of cash, yes, but the real treasure is a trove of notebooks containing at least one more Gold novel.

Morris hides the money and the notebooks, and then he is locked away for another crime. Decades later, a boy named Pete Saubers finds the treasure, and now it is Pete and his family that Bill Hodges, Holly Gibney, and Jerome Robinson must rescue from the ever-more deranged and vengeful Morris when he's released from prison after thirty-five years.
This is book two of the Bill Hodges Trilogy. I enjoyed the first book, Mr. Mercedes, so yeah, I want to read the next one.
SERENA:
The Geeky Chef Cookbook by Cassandra Reeder @Diary of an Eccentric
Cassandra Reeder loves to cook, and she's a bona-fide mega-geek. Comic-lover, avid gamer, and sci-fi and fantasy lover, she started The Geeky Chef in 2008. She creates real-life recipes for all the delicious foods you've seen in your favorite sci-fi and fantasy movies, TV shows, and video games. From Game of Thrones and the Hunger Games to Doctor Who, the Legend of Zelda and the World of Warcraft, this book features over 60 recipes and photos that you can re-create right in your own home for the geek in your life. Finally learn to create Butterbeer and Pumpkin Pasties from Harry Potter. Indulge in the Lemon Cakes from Game of Thrones. Sip from a bowl of Plomeek Soup from Star Trek and enjoy with Peeta's Cheesy Bread from the Hunger Games right in your kitchen! Fantasy foods are fantasy no longer…
I'm always on the lookout for new kinds of cookbooks, and this one sounds like it could be fun for book clubs too!
The Porcelain Thief by Huan Hsu @Kimberly's Bookshelf
In 1938, when the Japanese arrived in Huan Hsu's great-great-grandfather Liu's Yangtze River hometown of Xingang, Liu was forced to bury his valuables, including a vast collection of prized antique porcelain, and undertake a decades-long trek that would splinter the family over thousands of miles. Many years and upheavals later, Hsu, raised in Salt Lake City and armed only with curiosity, moves to China to work in his uncle's semiconductor chip business. Once there, a conversation with his grandmother, his last living link to dynastic China, ignites a desire to learn more about not only his lost ancestral heirlooms but also porcelain itself. Mastering the language enough to venture into the countryside, Hsu sets out to separate the layers of fact and fiction that have obscured both China and his heritage and finally complete his family's long march back home.

Melding memoir, travelogue, and social and political history, The Porcelain Thief offers an intimate and unforgettable way to understand the complicated events that have defined China over the past two hundred years and provides a revealing, lively perspective on contemporary Chinese society from the point of view of a Chinese American coming to terms with his hyphenated identity.
I'm not sure when my fascination with China started, or Asia in general, but ever since, I've been interested in books that talk about journeys there, as well as the social and political changes.
What books caught your eyes this week?