At Mailbox Monday we encourage participants to not only share the books they received, but to check out the books others have received.
Every Wednesday we will each share two books that caught our eye from that week's Mailbox Monday.
We encourage you to share the books that caught your eye in the comments.
VICKI:
The Boston Girl by Anita Diamant @Busy Hands Are Happy Hands
Eighty-five-year-old Addie tells the story of her life to her twenty-two-year-old granddaughter, who has asked her "How did you get to be the woman you are today." She begins in 1915, the year she found her voice and made friends who would help shape the course of her life. From the one-room tenement apartment she shared with her parents and two sisters, to the library group for girls she joins at a neighborhood settlement house, to her first, disastrous love affair, Addie recalls her adventures with compassion for the naïve girl she was and a wicked sense of humor.

Written with the same attention to historical detail and emotional resonance that made Anita Diamant's previous novels bestsellers, The Boston Girl is a moving portrait of one woman's complicated life in twentieth century America, and a fascinating look at a generation of women finding their places in a changing world.
I love when people share stories about their lives.. I've always wished I'd asked my parents more questions about theirs.
Lost Canyon by Nina Revoyr @BookNAround
Four people on a backpacking trip in the Sierra Nevada find more adventure than they ever imagined. Each of them is drawn to the mountains for reasons as diverse as their own lives. Gwen Foster, a counselor for at-risk youth, is struggling with burnout from the demands of her job. Real estate agent Oscar Barajas is adjusting to the fall of the housing market and being a single parent. Todd Harris, an attorney, is stuck in a lucrative but unfulfilling career–and in a failing marriage. They are all brought together by their trainer, Tracy Cole, a former athlete with a taste for risky pursuits.

When the hikers start up a pristine mountain trail that hasn't been traveled in years, all they have to guide them is a hand-drawn map of a remote, mysterious place called Lost Canyon. At first, the route past high alpine lakes and under towering, snowcapped peaks offers all the freedom and exhilaration they'd hoped for. But when they stumble onto someone who doesn't want to be found, the group finds itself faced with a series of dangerous conflicts, moral dilemmas, confrontations with nature, and an all-out struggle for survival.
I love books about people walking, hiking, or backpacking, so this caught my eye right away.
LESLIE:
After a While You Just Get Used to It by Gwendolyn Knapp @Luxury Reading, BermudaOnion, and A Nurse and a Book.
A dive bar palm reader who calls herself the Disco Queen Taiwan; a slumlord with a penis-of-the-day LISTSERV; and Betty, the middle-aged Tales of the Cocktail volunteer who soils her pants on a party bus and is dealt with in the worst possible way. These are just a few of the unforgettable characters who populate Gwendolyn Knapp's hilarious and heartbreaking—yet ultimately uplifting—memoir debut, After a While You Just Get Used to It.
Well, this just sounds different. Not my usual genre, but I like to branch out once in a while.
Every Secret Thing by Laura Lippman @Book Dilettante and BermudaOnion.
Two little girls banished from a neighborhood birthday party find a stroller with an infant inside on an unfamiliar Baltimore street. What happens next is shocking and terrible, causing the irreparable devastation of three separate families.

Seven years later, Alice Manning and Ronnie Fuller, now eighteen, are released from "kid prison" to begin their lives over again. But the unanswered questions about the original crime continue to haunt the parents, the lawyers, the police, and all the adults in Alice's and Ronnie's lives. And now another child has disappeared, under freakishly similar circumstances.
I always enjoy this author and I'm looking forward to her latest book.
SERENA:
Remember Mia
 by Alexandra Burt @Lori's Reading Corner and @Posting for Now
First I remember the darkness.
Then I remember the blood.
I don't know where my daughter is.

Estelle Paradise wakes up in a hospital after being found near dead at the bottom of a ravine with a fragmented memory and a vague sense of loss. Then a terrifying reality sets in: her daughter is missing.

Days earlier, Estelle discovered her baby's crib empty in their Brooklyn apartment. There was no sign of a break-in, but all traces of seven-month-old Mia had disappeared. Her diapers, her clothes, her bottles—all gone.

Frustrated and unable to explain her daughter's disappearance, Estelle begins a desperate search. But when the lack of evidence casts doubt on her story, Estelle becomes the number one suspect in the eyes of the police and the media.

As hope of reuniting with Mia becomes all she has left, Estelle will do anything to find answers: What has she done to her baby? And what has someone else done to her?
This sounds so heartbreaking and intriguing; I could not resist.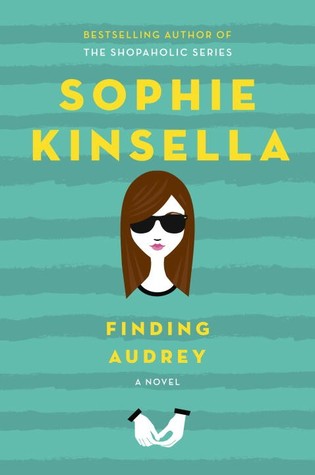 Finding Audrey by Sophie Kinsella @Sam Still Reading
An anxiety disorder disrupts fourteen-year-old Audrey's daily life. She has been making slow but steady progress with Dr. Sarah, but when Audrey meets Linus, her brother's gaming teammate, she is energized. She connects with him. Audrey can talk through her fears with Linus in a way she's never been able to do with anyone before. As their friendship deepens and her recovery gains momentum, a sweet romantic connection develops, one that helps not just Audrey but also her entire family.
I've read some other Kinsella books, and this one sounds different than the others.
What books caught your eye?