At Mailbox Monday we encourage participants to not only share the books they received, but to check out the books others have received.
Every Wednesday we will each share two books that caught our eye from that week's Mailbox Monday.
We encourage you to share the books that caught your eye in the comments.
LESLIE:
Maybe in Another Life by Taylor Jenkins Reid @Rainy Days and Mondays
At the age of twenty-nine, Hannah Martin still has no idea what she wants to do with her life. She has lived in six different cities and held countless meaningless jobs since graduating college. On the heels of leaving yet another city, Hannah moves back to her hometown of Los Angeles and takes up residence in her best friend Gabby's guestroom. Shortly after getting back to town, Hannah goes out to a bar one night with Gabby and meets up with her high school boyfriend, Ethan.

Just after midnight, Gabby asks Hannah if she's ready to go. A moment later, Ethan offers to give her a ride later if she wants to stay. Hannah hesitates. What happens if she leaves with Gabby? What happens if she leaves with Ethan?

In concurrent storylines, Hannah lives out the effects of each decision. Quickly, these parallel universes develop into radically different stories with large-scale consequences for Hannah, as well as the people around her. As the two alternate realities run their course, Maybe in Another Life raises questions about fate and true love: Is anything meant to be? How much in our life is determined by chance? And perhaps, most compellingly: Is there such a thing as a soul mate?
I'm not big on romance novels, but I do enjoy the "what-ifs" and parallel story lines, therefore this is one that caught my eye.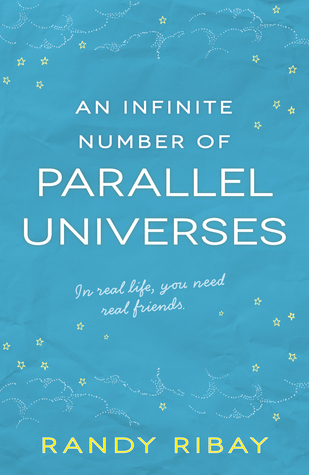 An Infinite Number of Parallel Universes by Randy Ribay @I'd Rather Be At The Beach.
As their senior year approaches, four diverse friends joined by their weekly Dungeons & Dragons game struggle to figure out real life. Archie's trying to cope with the lingering effects of his parents' divorce, Mari's considering an opportunity to contact her biological mother, Dante's working up the courage to come out to his friends, and Sam's clinging to a failing relationship. The four eventually embark on a cross-country road trip in an attempt to solve–or to avoid–their problems.

Told in the narrative style of Akira Kurosawa's RASHOMAN, AN INFINITE NUMBER OF PARALLEL UNIVERSES is at turns geeky, funny, and lyrical as it tells a story about that time in life when friends need each other to become more than just people that hang out.
Even thought the cover is a bit bland, the description – geeky and funny – caught my interest.
VICKI:
100 Million Years of Food: What Our Ancestors Ate and Why It Matters Today by Stephen Le @Luxury Reading
A fascinating tour through the evolution of the human diet, and how we can improve our health by understanding our complicated history with food.

There are few areas of modern life that are burdened by as much information and advice, often contradictory, as our diet and health: eat a lot of meat, eat no meat; whole-grains are healthy, whole-grains are a disaster; eat everything in moderation; eat only certain foods–and on and on. In One Hundred Million Years of Food biological anthropologist Stephen Le explains how cuisines of different cultures are a result of centuries of evolution, finely tuned to our biology and surroundings. Today many cultures have strayed from their ancestral diets, relying instead on mass-produced food often made with chemicals that may be contributing to a rise in so-called "Western diseases," such as cancer, heart disease, and obesity.

Traveling around the world to places as far-flung as Vietnam, Kenya, India, and the US, Stephen Le introduces us to people who are growing, cooking, and eating food using both traditional and modern methods, striving for a sustainable, healthy diet. In clear, compelling arguments based on scientific research, Le contends that our ancestral diets provide the best first line of defense in protecting our health and providing a balanced diet. Fast-food diets, as well as strict regimens like paleo or vegan, in effect highjack our biology and ignore the complex nature of our bodies. In One Hundred Million Years of Food Le takes us on a guided tour of evolution, demonstrating how our diets are the result of millions of years of history, and how we can return to a sustainable, healthier way of eating.
I'm really into cookbooks, really any book to do with food and this sounds super interesting.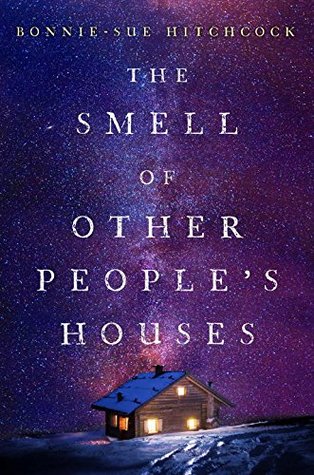 The Smell of Other People's Houses by Bonnie-Sue Hitchcock @The Reading Date
In Alaska, 1970, being a teenager here isn't like being a teenager anywhere else. This deeply moving and authentic debut is for fans of Rainbow Rowell, Louise Erdrich, Sherman Alexie, and Benjamin Alire Saenz. Intertwining stories of love, tragedy, wild luck, and salvation on the edge of America's Last Frontier introduce a writer of rare talent.

Ruth has a secret that she can't hide forever. Dora wonders if she can ever truly escape where she comes from, even when good luck strikes. Alyce is trying to reconcile her desire to dance, with the life she's always known on her family's fishing boat. Hank and his brothers decide it's safer to run away than to stay home—until one of them ends up in terrible danger.

Four very different lives are about to become entangled. This unforgettable book is about people who try to save each other—and how sometimes, when they least expect it, they succeed.
The title was the first thing that caught my attention. I had a few friends when I was a child whose houses always smelled the same. One of them smelled like Campbell's Bean With Bacon Soup. Another one always smelled like cinnamon. Then the cabin and the snow caught my eye. Beautiful! The book sounds interesting what with it taking place in Alaska and all. Plus there is the whole "Four very different lives are about to become entangled" aspect.
SERENA:
The Palest Ink By Kay Bratt @Kimberly's Bookshelf
Set against the backdrop of Chairman Mao's tumultuous Chinese Revolution, bestselling author Kay Bratt's The Palest Ink is a beautifully rendered novel about two best friends from very different walks of life.

A sheltered son from an intellectual family in Shanghai, Benfu spends 1966 anticipating a promising violinist career and an arranged marriage. On the other side of town lives Pony Boy, a member of a lower-class family—but Benfu's best friend all the same. Their futures look different but guaranteed…until they're faced with a perilous opportunity to leave a mark on history.

At the announcement of China's Cultural Revolution, Chairman Mao's Red Guard members begin their assault, leaving innocent victims in their wake as they surge across the country. With political turmoil at their door, both Benfu and Pony Boy must face heart-wrenching decisions regarding family, friendship, courage, and loyalty to their country during one of the most chaotic periods in history.
I enjoy books about the Cultural Revolution and its promises. This change in culture is fascinating.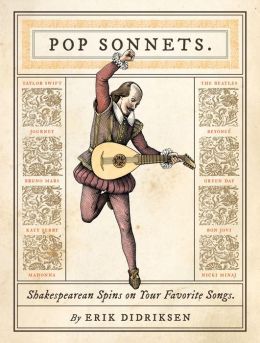 Pop Sonnets: Shakespearean Spins on Your Favorite Songs by Erik Didriksen @Carol's Notebook
The Bard meets the Backstreet Boys in Pop Sonnets, a collection of 100 classic pop songs reimagined as Shakespearean sonnets. All of your favorite artists are represented in these pages—from Bon Jovi and Green Day to Miley Cyrus, Beyoncé, and beyond. Already a smash sensation on the Internet—the Tumblr page has 20,000+ followers—Pop Sonnets has been featured by the A.V. Club, BuzzFeed, and Vanity Fair, among many others. More than half of these pop sonnets are exclusive to this collection and have never been published in any form.
I just adore books that take modern artistry and mash it up with classic styles and stories. This sounds perfect.
What books caught your eyes this week?