At Mailbox Monday we encourage participants to not only share the books they received, but to check out the books others have received.
Every Wednesday we will each share two books that caught our eye from that week's Mailbox Monday.
We encourage you to share the books that caught your eye in the comments.
LESLIE:
Reef Libre: Cuba the Last, Best Reefs in the World by Robert Wintner at I'd Rather Be At The Beach.
Decades of isolation from tourism and development have left Cuba's coral reefs among the most pristine in the world, an exceptionalism that stands in stark contrast to the island nation's poverty and political oppression. Famed diver/photographer Robert Snorkel Bob Wintner showcases these magnificent reefs with his astounding underwater images, while also capturing terrestrial life in the cities and villages of the island nation.   
This sounds fascinating! Yes, I'm a nature geek.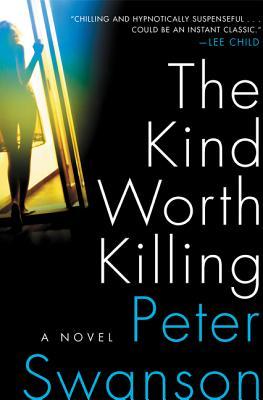 The Kind Worth Killing
by Peter Swanson at
The Infinite Curio
.
A devious tale of psychological suspense involving sex, deception, and an accidental encounter that leads to murder. This is a modern re-imagining of Patricia Highsmith's classic Strangers on a Train from the author of the acclaimed The Girl with a Clock for a Heart.

On a night flight from London to Boston, Ted Severson meets the mysterious Lily Kintner. Sharing one too many martinis, the strangers begin to play a game of truth, revealing intimate details about themselves. Ted talks about his marriage and his wife Miranda, who he's sure is cheating on him. But their game turns dark when Ted jokes that he could kill Miranda for what she's done. Lily, without missing a beat, says calmly, "I'd like to help."

From there, Ted and Lily's twisted bond grows stronger as they plot Miranda's demise, but soon these co-conspirators are embroiled in a game of cat-and-mouse–one they both cannot survive–with a shrewd and very determined detective on their tail.
I love psychological suspense. The comparison to Strangers on a Train (another favorite of mine) made this book one that caught my eye.
VICKI and SERENA:
I Must Say: My Life as a Humble Comedy Legend by Martin Short @ Bookfan Mary
In this engagingly witty, wise, and heartfelt memoir, Martin Short tells the tale of how a showbiz obsessed kid from Canada transformed himself into one of Hollywood's favorite funnymen, known to his famous peers as the "comedian's comedian."

Short takes the reader on a rich, hilarious, and occasionally heartbreaking ride through his life and times, from his early years in Toronto as a member of the fabled improvisational troupe Second City to the all-American comic big time of Saturday Night Live, and from memorable roles in such movies as ¡Three Amigos! and Father of the Bride to Broadway stardom in Fame Becomes Me and the Tony-winning Little Me.

He reveals how he created his most indelible comedic characters, among them the manic man-child Ed Grimley, the slimy corporate lawyer Nathan Thurm, and the bizarrely insensitive interviewer Jiminy Glick. Throughout, Short freely shares the spotlight with friends, colleagues, and collaborators, among them Steve Martin, Tom Hanks, Gilda Radner, Mel Brooks, Nora Ephron, Eugene Levy, Catherine O'Hara, Paul Shaffer, and David Letterman.

But there is another side to Short's life that he has long kept private. He lost his eldest brother and both parents by the time he turned twenty, and, more recently, he lost his wife of thirty years to cancer. In I Must Say, Short talks for the first time about the pain that these losses inflicted and the upbeat life philosophy that has kept him resilient and carried him through.

In the grand tradition of comedy legends, Martin Short offers a show-business memoir densely populated with boldface names and rife with retellable tales: a hugely entertaining yet surprisingly moving self-portrait that will keep you laughing—and crying—from the first page to the last.
"I'm somewhat a fan of Martin Short, so I want to read this and get a peek inside his head," says Vicki.
Serena says, "I just adore Short's humor, and I would love to see what goes on in his head and the interactions he's had. Plus, this is a book I can definitely see sharing with my mom."
The Natural Way of Things by Charlotte Wood @ Sam Still Reading
Two women awaken from a drugged sleep to find themselves imprisoned in a broken-down property in the middle of a desert. Strangers to each other, they have no idea where they are or how they came to be there with eight other girls, forced to wear strange uniforms, their heads shaved, guarded by two inept yet vicious armed jailers and a 'nurse'.

The girls all have something in common, but what is it? What crime has brought them here from the city? Who is the mysterious security company responsible for this desolate place with its brutal rules, its total isolation from the contemporary world? Doing hard labour under a sweltering sun, the prisoners soon learn what links them: in each girl's past is a sexual scandal with a powerful man. They pray for rescue – but when the food starts running out it becomes clear that the jailers have also become the jailed. The girls can only rescue themselves.
"I want to find out what they went through and how they saved themselves," says Vicki.
Serena says, "I love these kinds of stories that people not only find themselves in unusual situations but they also find the deck stacked against them."
What books caught your eye this week?