At Mailbox Monday we encourage participants to not only share the books they received, but to check out the books others have received.Every Wednesday we will each share two books that caught our eye from that week's Mailbox Monday.
We encourage you to share the books that caught your eye in the comments.
LESLIE
Joy to the Worlds: Mysterious Speculative Fiction for the Holidays @Martha's Bookshelf
What do you get when you mix mystery and speculative fiction, then toss in the holidays for good measure? A mobster Santa, genetic hanky-panky, Victorian villages, time-travelling detectives, Krampus, eerie bell spirits, and more–this collection of short cross-genre fiction is the perfect counterpoint to traditional holiday reading! 

 

This collection stars four authors, each with their own distinct style. National bestselling mystery author Maia Chance, who is famous for her cozy mysteries, dazzles with humor and folklore. IPPY award-winning science fiction author Janine A. Southard beguiles with unexpected time-travel science. Science fiction and fantasy bestseller Raven Oak offers a look into the gothic past. And for a whole new perspective, debut fiction author and art expert G. Clemans dives into the intersections of creativity and mystery. 

 

Joy to the Worlds brings together eight short works that explore mysteries across time and space. Ranging from dark dystopian worlds to comedic retro-futures, four diverse writers find new ways to combine these disparate worlds into something everyone will enjoy.
I love scifi and speculative fiction. This would be a fun way to add a holiday element to my reading.
[This was one featured in one of last week's MM posts but I just noticed it this week.]
The Year We Turned Forty by Liz Fenton @The Reading Date and @125 Pages
If you could repeat one year of your life, what would you do differently? This heartwarming and hilarious novel from the authors of The Status of All Things and Your Perfect Life features three best friends who get the chance to return to the year they turned forty—the year that altered all of their lives, in ways big and small—and also get the opportunity to change their future.


 

But it doesn't take long for all three women to learn that re-living a life and making different decisions only leads to new problems and consequences—and that the mistakes they made may, in fact, have been the best choices of all…
I like a little totally unrealistic 'what if' unrealistic fiction once in a while.
VICKI
She
by Michelle Latiolais @
Lori's Reading Corner
A nameless fifteen-year-old runs away to Los Angeles, seeking life beyond the harsh constraints of her evangelical upbringing. She is the narrative of her passage, from her escape on a bus through her quiet, determined progress across the city's unforgiving terrain. The journey takes her into and around the lives of Angelinos from all walks: a dancer whose hyperactive sense of smell makes her fiance's presence insufferable; a penniless botanist who earns her keep creating sugar-icing flowers to decorate glamorous wedding cakes she can never afford; a dentist lamenting the abuses done to the teeth of a patient for whom he has cared dutifully. Her odd encounters, set against the backdrop of Los Angeles's flagrant wealth, cast into relief its eccentricities and the everyday trials faced by its collection of lost souls. Together these stories reflect and refract one another, illuminating a poignant, unflinching portrait of loss and the search for identity in its wake.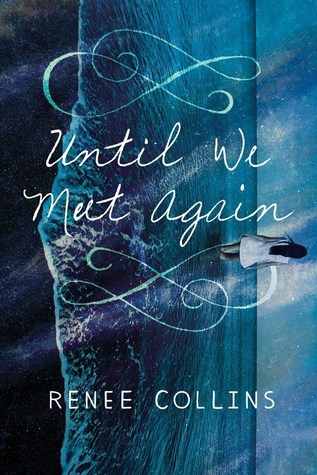 Until We Meet Again
by Renee Collin @
Library of Clean Reads
Country clubs and garden parties. The last thing Cassandra wants is to spend the summer before her senior year marooned in a snooty Massachusetts shore town. Cass craves drama and adventure, which is hard when she just feels stuck.

But when a dreamy stranger shows up on her family's private beach, claiming that it is his property-and that the year is 1925-Cass is swept into a mystery a hundred years in the making. As she searches for answers in the present, Cass discovers a truth that thrusts Lawrence's life into jeopardy. It won't matter which century he is from if he won't live to see tomorrow.

Desperate to save the boy who's come to mean everything to her, Cassandra must find a way to change history…or risk losing Lawrence forever.

"Until We Meet Again is tragically beautiful with twists you won't see coming."-Martina Boone, author of Compulsion and the Heirs of Watson Island trilogy.
SERENA
An Unattractive Vampire Jim McDoniel @125Pages
"An Unattractive Vampire," is a darkly comic urban fantasy of ancient horrors in suburban cities. After three centuries trapped underground, thousand-year-old Yulric Bile also known as the Cursed One, the Devil s Apprentice, He Who Worships the Slumbering Horrors awakens only to find that no one believes he is a vampire. Apparently he s just too ugly modern vampires, he soon discovers, are pretty, weak, and, most disturbing of all, good. Determined to reestablish his bloodstained reign, Yulric sets out to correct this disgusting turn of events or, at the very least, murder the person responsible. With the help of pert vampire-wannabe Amanda; Simon, the eight-year-old reincarnation of his greatest foe; and a cadre of ancient and ugly horrors, Yulric prepares to battle the glamorous undead. But who will win the right to determine, once and for all, what it truly means to be a vampire?"
This looks like it would give you another take on vampires; maybe they aren't all pretty. How does that work? I'd love to know.
The Violinist of Venice by Alyssa Palombo @Silver's Reviews and @BookNAround
A sweeping historical novel of composer and priest Antonio Vivaldi, a secret wealthy mistress, and their passion for music and each other

Like most 18th century Venetians, Adriana d'Amato adores music-except her strict merchant father has forbidden her to cultivate her gift for the violin. But she refuses to let that stop her from living her dreams and begins sneaking out of her family's palazzo under the cover of night to take violin lessons from virtuoso violinist and composer Antonio Vivaldi. However, what begins as secret lessons swiftly evolves into a passionate, consuming love affair.

Adriana's father is intent on seeing her married to a wealthy, prominent member of Venice's patrician class-and a handsome, charming suitor, whom she knows she could love, only complicates matters-but Vivaldi is a priest, making their relationship forbidden in the eyes of the Church and of society. They both know their affair will end upon Adriana's marriage, but she cannot anticipate the events that will force Vivaldi to choose between her and his music. The repercussions of his choice-and of Adriana's own choices-will haunt both of their lives in ways they never imagined.
Anyone who knows me, knows that violins are a weakness for me. I have not talent for playing them, but I love how they sound, and Vivaldi is one of my favorite composers.
What books caught your eye this week?