At Mailbox Monday we encourage participants to not only share the books they received, but to check out the books others have received.
Every Wednesday we will each share two books that caught our eye from that week's Mailbox Monday.
We encourage you to share the books that caught your eye in the comments.
LESLIE:
Ghosts of Bergen County by Dana Cann @Lori's Reading Corner.
Set in New York City and New Jersey on the cusp of the financial crisis, Ghosts of Bergen County is a literary mystery with supernatural elements.

Gil Ferko is a private-equity lieutenant who commutes to Manhattan from the New Jersey suburbs. His wife, Mary Beth, has become a shut-in since a hit-and-run accident killed their infant daughter. When Ferko reconnects with Jen Yoder, a former high school classmate, Jen introduces him to heroin. As his dependency on the drug grows, his downward spiral puts his life in danger and his career in jeopardy.

Mary Beth has also found an escape―first in prescription drugs that numb her senses, then in the companionship of a mysterious girl who heightens them. A ghost? Mary Beth believes so. And Jen is also haunted. Years ago she witnessed a man she had just met fall from a rooftop. She walked away from the accident and has been haunted since by the question of why she did so. As her quest to rectify that mistake starts to collide with the mystery of the hit-and-run driver who killed Ferko and Mary Beth's daughter, all of the characters are forced to face the fine line between fate and happenstance.
Into the Black by Rowland White @Beauty in Ruins.
The Extraordinary Untold Story of the First Flight of the Space Shuttle Columbia and the Astronauts Who Flew Her
The real-life techno-thriller from a bestselling author and aviation expert that recaptures the historic moments leading up to the launch of the space shuttle Columbia and the exciting story of her daring maiden flight.
Using interviews, NASA oral histories, and recently declassified material, Into the Black pieces together the dramatic untold story of the Columbia mission and the brave people who dedicated themselves to help the United States succeed in the age of space exploration
VICKI:
Deacon's Folly by James Thibeault @Fiction Books
When a backwoods town has a barbecue, it's to mock a teenage boy who nailed himself to a tree house. While Devon's not the brightest bulb and has no recollection of his childhood, he's a kind soul who seems friendly enough. Still, the whole town despises him. Only the new deacon in town takes sympathy towards the boy and is determined to discover Devon's forgotten past, and the reason why it is never discussed.

Everything about Devon's life is a mystery, from the whereabouts of his parents to Devon's own memories. In the town, he is treated more like an animal than a person. Forced to live outside, Devon is looked after by his alcoholic guardian, Mr. Audette. Besides the deacon, the only person who takes pity on Devon is Mr. Audette's daughter, Caroline, who has been running the household since her mother died years ago. Despite Caroline and Devon living next to each other, Mr. Audette forbids Caroline from socializing with him.

Few want to be near Devon. He spends most of his time alone and talking to the moon. At night, he suffers from dreams of people screaming. He doesn't understand what it means, but tries to ignore it as best he can. For years, all Devon has done is block the torments in his head, the mockery from the town, and even his own memories. The deacon is convinced it's time to know the truth.

At its core this book is about a young man who is forced by an entire town to come to terms with his disability and his efforts to learn to live in a community of individuals of lesser humanity than himself.
How could a whole town treat a young boy like that. I have to read it.
Sister Dear by Laura McNeill @Silver's Reviews
All Allie Marshall wants is a fresh start. But when dark secrets refuse to stay buried, will her chance at a new life be shattered forever?

Convicted of a crime she didn t commit, Allie watched a decade of her life vanish time that can never be recovered. Now, out on parole, Allie is determined to clear her name, rebuild her life, and reconnect with the daughter she barely knows.

But Allie s return home shatters the quaint, coastal community of Brunswick, Georgia. Even her own daughter Caroline, now a teenager, bristles at Allie s claims of innocence. Refusing defeat, a stronger, smarter Allie launches a battle for the truth, digging deeply into the past even if it threatens her parole status, personal safety, and the already-fragile bond with family.

As her commitment to finding the truth intensifies, what Allie ultimately uncovers is far worse than she imagined. Her own sister has been hiding a dark secret one that holds the key to Allie s freedom.
Sister/Family drama. I want to find out all the secrets.
SERENA:
The Wicked Will Rise and Yellow Brick War by Danielle Paige @The Reading Date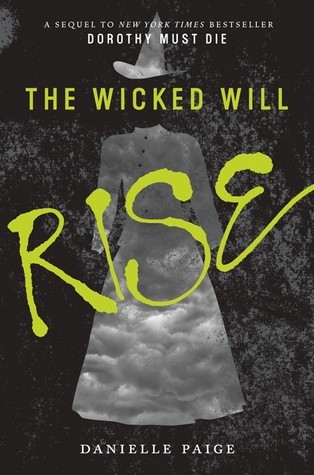 To make Oz a free land again, Amy Gumm was given a mission: remove the Tin Woodman's heart, steal the Scarecrow's brain, take the Lion's courage, and then Dorothy must die…

But Dorothy still lives. Now the Revolutionary Order of the Wicked has vanished, and mysterious Princess Ozma might be Amy's only ally. As Amy learns the truth about her mission, she realizes that she's only just scratched the surface of Oz's past—and that Kansas, the home she couldn't wait to leave behind, may also be in danger. In a place where the line between good and evil shifts with just a strong gust of wind, who can Amy trust—and who is really Wicked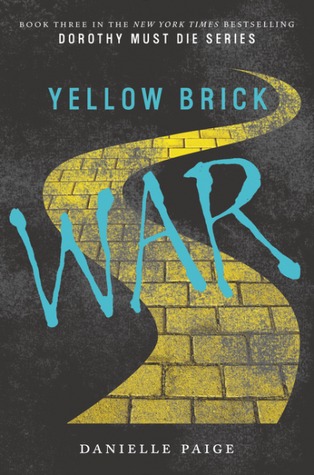 Amy Gumm's mission to take down Dorothy Gale is not going according to plan. Dorothy has found a way to bridge the worlds of Oz and Kansas, and if the power-hungry dictator of Oz has her way, Kansas will be destroyed forever. Now, Amy has to team up with the Revolutionary Order of the Wicked to save her home, restore the balance between the magic and nonmagic worlds, maybe get the guy—and kill that not-so-sweet Kansas farm girl once and for all.

In the third installment of the New York Times bestselling Dorothy Must Die series, Danielle Paige's twisted versions of beloved Oz characters are back, including the biggest, baddest, most famous of all: the Wicked Witch of the West.

Welcome to the other side of the rainbow. Here there's danger around every corner, and magic shoes won't be able to save you
I've read the first in the series, and I think it would be interesting to see where the story goes from there.
Serious Whitefella Stuff: When Solutions Became the Problem in Indigenous Affairs by Mark Moran @Sam Still Reading
How does Indigenous policy signed off in Canberra work, or not, when implemented in remote Aboriginal communities? The authors are self-proclaimed policy wonks with significant and successful on-the-ground experience of this ongoing challenge. What, they ask, is the right balance between respecting local traditions and making significant improvement in the areas of alcohol consumption, home ownership and revitalizing cultural practices?
This sounds fascinating.
What books caught your eye?