At Mailbox Monday we encourage participants to not only share the books they received, but to check out the books others have received.
Every Wednesday we will each share two books that caught our eye from that week's Mailbox Monday.
We encourage you to share the books that caught your eye in the comments.
LESLIE:
The Beauty of the End by Debbie Howells @ Curl Up and Read
From the acclaimed author of The Bones of You comes a haunting and heartbreaking new psychological thriller about a man thrust into the middle of a murder investigation, forced to confront the secrets of his ex-lover's past.

"I was fourteen when I fell in love with a goddess. . ."

So begins the testimony of Noah Calaway, an ex-lawyer with a sideline in armchair criminal psychology. Now living an aimless life in an inherited cottage in the English countryside, Noah is haunted by the memory of the beguiling young woman who left him at the altar sixteen years earlier. Then one day he receives a troubling phone call. April, the woman he once loved, lies in a coma, the victim of an apparent overdose–and the lead suspect in a brutal murder. Deep in his bones, Noah believes that April is innocent. Then again, he also believed they would spend the rest of their lives together.

While Noah searches for evidence that will clear April's name, a teenager named Ella begins to sift through the secrets of her own painful family history. The same age as April was when Noah first met her, Ella harbors a revelation that could be the key to solving the murder. As the two stories converge, there are shocking consequences when at last, the truth emerges.

Or so everyone believes. . .
I enjoyed the author's last novel and am looking forward to reading this one too.
Birdology by Sy Montgomery @ Sam Still Reading.
Meet the ladies: a flock of smart, affectionate, highly individualistic chickens who visit their favorite neighbors, devise different ways to hide from foxes, and mob the author like she's a rock star. In these pages you'll also meet Maya and Zuni, two orphaned baby hummingbirds who hatched from eggs the size of navy beans, and who are little more than air bubbles fringed with feathers. Their lives hang precariously in the balance-but with human help, they may one day conquer the sky.

Snowball is a cockatoo whose dance video went viral on YouTube and who's now teaching schoolchildren how to dance. You'll meet Harris's hawks named Fire and Smoke. And you'll come to know and love a host of other avian characters who will change your mind forever about who birds really are.

Each of these birds shows a different and utterly surprising aspect of what makes a bird a bird-and these are the lessons of Birdology: that birds are far stranger, more wondrous, and at the same time more like us than we might have dared to imagine. In Birdology, beloved author of The Good Good Pig Sy Montgomery explores the essence of the otherworldly creatures we see every day. By way of her adventures with seven birds-wild, tame, exotic, and common-she weaves new scientific insights and narrative to reveal seven kernels of bird wisdom.
I already own a copy of this book, but because I'm such a bird lady it caught my eye once again!
VICKI: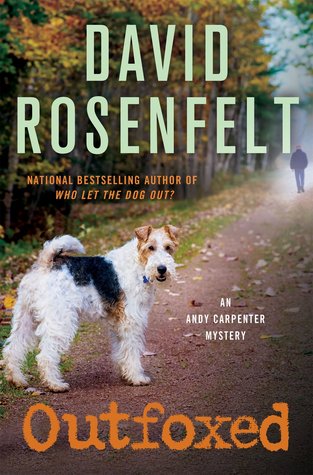 Outfoxed by David Rosenfelt @ Lori's Reading Corner
Defense lawyer Andy Carpenter spends as much time as he can working on his true passion, the Tara Foundation, the dog rescue organization he runs. Lately, Andy has been especially involved in a county prison program where inmates help train dogs the Tara Foundation has rescued to make them more adoptable, benefiting both the dogs and the prisoners. One of the prisoners Andy has been working with is Brian Atkins, who has 18 months left on a 5-year term for fraud. Brian has been helping to train Boomer, an adorable fox terrier the Tara Foundation rescued from a neglectful owner. Brian and Boomer are clearly a terrific match. In fact, Andy hopes that Brian will adopt Boomer himself, once his sentence is up. But one day, Andy arrives at the prison to discover that Brian has used Boomer to make an ingenious escape, and man and dog are both in the wind. The next day, the man on whose testimony Brian was convicted is found murdered. Brian is caught and arrested for the crime, though he forcefully protests his innocence. Suddenly, Andy finds himself with a new client in Brian and a new dog in Boomer. And as he starts to dig deeper into the murder and the events leading up to it, Andy realizes he might be putting them all in far more danger than anyone had realized.
The cover hooked me. I love dogs!
Truth or Dare by Barbara Dee @ BermudaOnion
A few white lies during a simple game of truth or dare spin out of control and make life very complicated for Lia in this brand-new novel from Barbara Dee.

When Lia returns after a summer with her eccentric aunt, it feels like everything has changed within her group of five friends. Everyone just seems more…dramatic. And after playing a game of Truth or Dare, Lia discovers how those divides are growing wider, and tells a few white lies about what really happened over the summer in order to "keep up." But is "keeping up" with her BFFs really worth it?
This sounds good and I haven't read a book by a children's author in a long time.
SERENA:
The Fireman by Joe Hill @ Infinite Curio
The fireman is coming. Stay cool.

No one knows exactly when it began or where it originated. A terrifying new plague is spreading like wildfire across the country, striking cities one by one: Boston, Detroit, Seattle. The doctors call it Draco Incendia Trychophyton. To everyone else it's Dragonscale, a highly contagious, deadly spore that marks its hosts with beautiful black and gold marks across their bodies—before causing them to burst into flames. Millions are infected; blazes erupt everywhere. There is no antidote. No one is safe.

Harper Grayson, a compassionate, dedicated nurse as pragmatic as Mary Poppins, treated hundreds of infected patients before her hospital burned to the ground. Now she's discovered the telltale gold-flecked marks on her skin. When the outbreak first began, she and her husband, Jakob, had made a pact: they would take matters into their own hands if they became infected. To Jakob's dismay, Harper wants to live—at least until the fetus she is carrying comes to term. At the hospital, she witnessed infected mothers give birth to healthy babies and believes hers will be fine too. . . if she can live long enough to deliver the child.

Convinced that his do-gooding wife has made him sick, Jakob becomes unhinged, and eventually abandons her as their placid New England community collapses in terror. The chaos gives rise to ruthless Cremation Squads—armed, self-appointed posses roaming the streets and woods to exterminate those who they believe carry the spore. But Harper isn't as alone as she fears: a mysterious and compelling stranger she briefly met at the hospital, a man in a dirty yellow fire fighter's jacket, carrying a hooked iron bar, straddles the abyss between insanity and death. Known as The Fireman, he strolls the ruins of New Hampshire, a madman afflicted with Dragonscale who has learned to control the fire within himself, using it as a shield to protect the hunted . . . and as a weapon to avenge the wronged.

In the desperate season to come, as the world burns out of control, Harper must learn the Fireman's secrets before her life—and that of her unborn child—goes up in smoke.
I know there's a read-a-long for this one in July and I'll be missing it, but I had to put this in my list because…it's Joe Hill.  That cover is fantastic too!
My Fat Dad: A Memoir of Food, Love, and Family by Dawn Lerman @ I'd Rather Be at the Beach
Every story and every memory from my childhood is attached to food…

Dawn Lerman spent her childhood constantly hungry. She craved good food as her father, 450 pounds at his heaviest, pursued endless fad diets, from Atkins to Pritikin to all sorts of freeze-dried, saccharin-laced concoctions, and insisted the family do the same—even though no one else was overweight. Dawn's mother, on the other hand, could barely be bothered to eat a can of tuna over the sink. She was too busy ferrying her other daughter to acting auditions and scolding Dawn for cleaning the house ("Whom are you trying to impress?").

It was chaotic and lonely, but Dawn had someone she could turn to: her grandmother Beauty. Those days spent with Beauty, learning to cook, breathing in the scents of fresh dill or sharing the comfort of a warm pot of chicken soup, made it all bearable. Even after Dawn's father took a prestigious ad job in New York City and moved the family away, Beauty would send a card from Chicago every week—with a recipe, a shopping list, and a twenty-dollar bill. She continued to cultivate Dawn's love of wholesome food, and ultimately taught her how to make her own way in the world—one recipe at a time.

In My Fat Dad, Dawn reflects on her colorful family and culinary-centric upbringing, and how food shaped her connection to her family, her Jewish heritage, and herself. Humorous and compassionate, this memoir is an ode to the incomparable satisfaction that comes with feeding the ones you love.
Ok, I don't read a lot of memoirs, but this one also has recipes and it sounds like a fun one.
What books caught your eye this week?