At Mailbox Monday we encourage participants to not only share the books they received, but to check out the books others have received.
Every Wednesday we will each share two books that caught our eye from that week's Mailbox Monday.
I'll be passing the torch to Vicki for July.  I hope everyone's summer goes swimmingly!
We encourage you to share the books that caught your eye in the comments.
LESLIE:
Lock In by John Scalzi @ Shelf Pickings
Not too long from today, a new, highly contagious virus makes its way across the globe. Most who get sick experience nothing worse than flu, fever and headaches. But for the unlucky one percent – and nearly five million souls in the United States alone – the disease causes "Lock In": Victims fully awake and aware, but unable to move or respond to stimulus. The disease affects young, old, rich, poor, people of every color and creed. The world changes to meet the challenge.

A quarter of a century later, in a world shaped by what's now known as "Haden's syndrome," rookie FBI agent Chris Shane is paired with veteran agent Leslie Vann. The two of them are assigned what appears to be a Haden-related murder at the Watergate Hotel, with a suspect who is an "integrator" – someone who can let the locked in borrow their bodies for a time. If the Integrator was carrying a Haden client, then naming the suspect for the murder becomes that much more complicated.

But "complicated" doesn't begin to describe it. As Shane and Vann began to unravel the threads of the murder, it becomes clear that the real mystery – and the real crime – is bigger than anyone could have imagined. The world of the locked in is changing, and with the change comes opportunities that the ambitious will seize at any cost. The investigation that began as a murder case takes Shane and Vann from the halls of corporate power to the virtual spaces of the locked in, and to the very heart of an emerging, surprising new human culture. It's nothing you could have expected.
The Memory Code by Lynne Kelly @ Sam Still Reading
Lynne Kelly has discovered that a powerful memory technique used by the ancients can unlock the secrets of the Neolithic stone circles of Britain and Europe, the ancient Pueblo buildings in New Mexico and other prehistoric stone monuments across the world. We can still use the memory code today to train our own memories.

In the past, the elders had encyclopaedic memories. They could name all the animals and plants across the landscape, and the stars in the sky too. Yet most of us struggle to memorise more than a short poem.

Using traditional Aboriginal Australian songlines as the key, Lynne Kelly has identified the powerful memory technique used by indigenous people around the world. She has discovered that this ancient memory technique is the secret behind the great stone monuments like Stonehenge, which have for so long puzzled archaeologists.

The stone circles across Britain and northern Europe, the elaborate stone houses of New Mexico, the huge animal shapes at Nasca in Peru, and the statues of Easter Island all serve as the most effective memory system ever invented by humans. They allowed people in non-literate cultures to memorise the vast amounts of practical information they needed to survive.
VICKI:
Two Days Gone by Randall Silvis @ Silver's Reviews
A literary page-turner about a beloved college professor accused of murdering his entire family, and one small-town cop's dangerous search for answers.

Thomas Huston, a beloved professor and bestselling author, is something of a local hero in the small Pennsylvania college town where he lives and teaches. So when Huston's wife and children are found brutally murdered in their home, the community reacts with shock and anger. Huston has also mysteriously disappeared, and suddenly, the town celebrity is suspect number one.

Sergeant Ryan DeMarco has secrets of his own, but he can't believe that a man he admired, a man he had considered a friend, could be capable of such a crime. Hoping to glean clues about Huston's mind-set, DeMarco delves into the professor's notes on his novel-in-progress. Soon, DeMarco doesn't know who to trust—and the more he uncovers about Huston's secret life, the more treacherous his search becomes.
I want to find out if he did kill his wife and children.
Animal Atlas by Animal Planet @ BermudaOnion & Under My Apple Tree
Animal Planet's definitive atlas of animal life takes readers on a continent-by-continent and habitat-by-habitat passport to adventure!

What is a habitat? How is the North Pole's animal life different from the South Pole's? How and why do animals adapt to their environment? Is a food web different from a food chain? Animal Planet Animal Atlas answers all of these questions and many more. Through detailed maps, fun infographics, simple charts, and Find It! Fact boxes readers can track their favorite animals across the globe, learning about how animal habitats are affected by climate, food and water availability, migration, and human environmental impact.
I know this is a book for children, but it sounds so interesting.
SERENA:
The House Between Tides by Sarah Maine @ Sam Still Reading
Scotland's Outer Hebrides provides the sensuous setting for this impressive debut…a beautifully crafted novel.' Publishers Weekly

A captivating story of a crumbling estate in the wilds of Scotland, its century-old secret and an enduring mystery.

Following the deaths of her last living relatives, Hetty Deveraux leaves her strained marriage behind in London and journeys to Scotland to inspect her inheritance: her ancestral home, now in ruins. As Hetty dives headfirst into the repairs, she discovers a shocking secret protected by the house for a hundred years.

With only whispered rumours circulating among the local villagers and a handful of leads to guide her, Hetty finds the power of the past is still affecting her present in startling ways.
This sounds very Gothic to me, and I like those kinds of stories.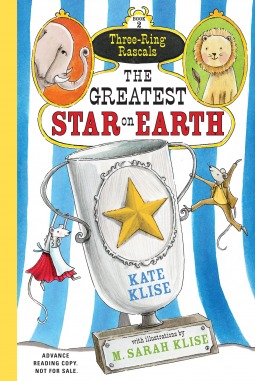 4 books in the Three-Ring Circus series by Kate Klise @ Bermudaonion
Everyone knows Sir Sidney s Circus is the best in the world. But who s the "star" of the show? "The Circus Times "is having a contest to find out. Just thinking about it gives Sir Sidney a worrywart, and it s quickly clear why. Soon after he goes off to rest, the performers start thinking too much about winning the trophy and not enough about putting on a good show.

Meanwhile, it looks as if ringmaster-in-training Barnabas Brambles might need some help managing the crew, so Bert and Gert, the sly brother-and-sister mice who travel with the show, set out to write a book to teach him how it s done.
My daughter and I read the first book in this series, and she'd love to revisit these circus books.
What books caught your eye this week?
Save
Save
Save