At Mailbox Monday we encourage participants to not only share the books they received, but to check out the books others have received.
Every Wednesday we will each share two books that caught our eye from that week's Mailbox Monday.
We encourage you to share the books that caught your eye in the comments.
VICKI:
Dogs and Their People by Barkpost @ Bermudaonion
From the humans that brought you BarkBox (and BarkPost and BarkShop) finally comes Dogs and Their People.

Finally, Bark & Co. has tapped the humans at BarkPost, the company's publishing arm, to put into words and photographs the first official BarkBook, capturing the depth, spirit, and power of the extraordinary bond between humans and their pups.

Mostly community-sourced and filled with never-before-told anecdotes, stories, photos, and intimate insights, Dogs and Their Peoplespotlights over 200 unique and remarkable dogs. Some are celebri-dogs while others are just making their debut; some will make your heart ache, while others will make it soar; and others simply look really dapper in color. All bring to life and celebrate the crazy, consuming, insatiable love we feel for the World's Ultimate Best Friend in a book that is the perfect gift for Dog Lovers everywhere.
I love dogs so this grabbed my attention right away.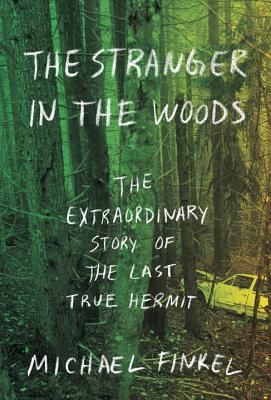 The Stranger in the Woods: The Extraordinary Story of the Last True Hermit by Michael Finkel @ Under My Apple Tree
For readers of Jon Krakauer and The Lost City of Z, a remarkable tale of survival and solitude–the true story of a man who lived alone in a tent in the Maine woods, never talking to another person and surviving by stealing supplies from nearby cabins for twenty-seven years.

In 1986, twenty-year-old Christopher Knight left his home in Massachusetts, drove to Maine, and disappeared into the woods. He would not have a conversation with another human being until nearly three decades later when he was arrested for stealing food. Living in a tent even in winter, he had survived by his wits and courage, developing ingenious ways to store food and water, to avoid freezing to death. He broke into nearby cottages for food, clothes, reading material, and other provisions, taking only what he needed, but terrifying a community never able to solve the mysterious burglaries. Based on extensive interviews with Knight himself, this is a vividly detailed account of the why and how of his secluded life–as well as the challenges he has faced returning to the world. A riveting story of survival that asks fundamental questions about solitude, community, and what makes a good life, and a deeply moving portrait of a man who was determined to live his own way, and succeeded.
I love true stories and this sounds like an absolutely amazing story.
LESLIE:
Doctor Who Psychology: A Madman with a Box by Travis Langley and Katy Manning @Savvy Verse & Wit
If a person could travel eternally through space and time, how would this power affect him, psychologically and emotionally? In a fun and accessible way, Doctor Who Psychology explores this question through an analysis of the longest-running sci-fi TV series of all time. This fascinating in-depth academic study, edited by Travis Langley, contains 20 chapters delving into the psychology behind the time-traveling Doctor in his many iterations, as well as his companions and his foes.
I'm a Whovian from the original series.
SPQR: A History of Ancient Rome by Mary Beard @Book Ramblings
By 63 BCE the city of Rome was a sprawling, imperial metropolis of more than a million inhabitants. But how did this massive city—the seat of power for an empire that spanned from Spain to Syria—emerge from what was once an insignificant village in central Italy? In S.P.Q.R., Beard changes our historical perspective, exploring how the Romans themselves challenged the idea of imperial rule, how they responded to terrorism and revolution, and how they invented a new idea of citizenship and nation, while also keeping her eye open for those overlooked in traditional histories: women, slaves and ex-slaves, conspirators, and losers. Like the best detectives, Beard separates fact from fiction, myth and propaganda from historical record. She introduces the familiar characters of Julius Caesar, Cicero, and Nero as well as the untold, the loud women, the shrewd bakers, and the brave jokers. S.P.Q.R. promises to shape our view of Roman history for decades to come.
I find Roman history fascinating. This is the type of book I like to listen to in audio format.
SERENA:
Secrets in the Snow by Michaela MacColl @Library of Clean Reads
Jane Austen's family is eager to secure her future by marrying her off. But Jane is much more interested in writing her novels, and finds every suitor lacking—until the mysterious Mr. Lefroy arrives. Could he be the one? Before Jane can find out, she must solve a murder, clear her family's name, and face a decision that might cost her true love.
I just adore Jane Austen and her novels, so this one sounds like a good one about her and it involves a mystery.
The Dress in the Window by Sofia Grant @Lori's Reading Corner
World War II has ended and American women are shedding their old clothes for the gorgeous new styles. Voluminous layers of taffeta and tulle, wasp waists, and beautiful color—all so welcome after years of sensible styles and strict rationing.

Jeanne Brink and her sister Peggy both had to weather every tragedy the war had to offer—Peggy now a widowed mother, Jeanne without the fiancé she'd counted on, both living with Peggy's mother-in-law in a grim mill town. But despite their grey pasts they long for a bright future—Jeanne by creating stunning dresses for her clients with the help of her sister Peggy's brilliant sketches.

Together, they combine forces to create amazing fashions and a more prosperous life than they'd ever dreamed of before the war. But sisterly love can sometimes turn into sibling jealousy. Always playing second fiddle to her sister, Peggy yearns to make her own mark. But as they soon discover, the future is never without its surprises, ones that have the potential to make—or break—their dreams.
I love reading WWII novels, and this one sounds like an interesting look at the end of the war and its aftermath.
What books caught your eyes this week?
Save