At Mailbox Monday we encourage participants to not only share the books they received, but to check out the books others have received.
Every Wednesday we will each share two books that caught our eye from that week's Mailbox Monday.
We encourage you to share the books that caught your eye in the comments.
LESLIE:
The Wicked City by Beatriz Williams @Library of Clean Reads.
When she discovers her husband cheating, Ella Hawthorne impulsively moves out of their SoHo loft and into a small apartment in an old Greenwich Village building. Her surprisingly attractive new neighbor, Hector, warns her to stay out of the basement at night. Tenants have reported strange noises after midnight—laughter, clinking glasses, jazz piano—even though the space has been empty for decades. Back in the Roaring Twenties, the place hid a speakeasy.

In 1924, Geneva "Gin" Kelly, a smart-mouthed flapper from the hills of western Maryland, is a regular at this Village hideaway known as the Christopher Club. Caught up in a raid, Gin becomes entangled with Prohibition enforcement agent Oliver Anson, who persuades her to help him catch her stepfather Duke Kelly, one of Appalachia's most notorious bootleggers.

Headstrong and independent, Gin is no weak-kneed fool. So how can she be falling in love with the taciturn, straight-arrow Revenue agent when she's got Princeton boy Billy Marshall, the dashing son of society doyenne Theresa Marshall, begging to make an honest woman of her? While anything goes in the Roaring Twenties, Gin's adventures will shake proper Manhattan society to its foundations, exposing secrets that shock even this free-spirited redhead—secrets that will echo from Park Avenue to the hollers of her Southern hometown.

As Ella discovers more about the basement speakeasy, she becomes inspired by the spirit of her exuberant predecessor, and decides to live with abandon in the wicked city too.
VICKI:
True Colors by Kristin Hannah @Sam Still Reading
True Colors is New York Times bestselling author Kristin Hannah's most provocative, compelling, and heart-wrenching story yet. With the luminous writing and unforgettable characters that are her trademarks, she tells the story of three sisters whose once-solid world is broken apart by jealousy, betrayal, and the kind of passion that rarely comes along.

The Grey sisters have always been close. After their mother's death, the girls banded together, becoming best friends. Their stern, disapproving father cares less about his children than about his reputation. To Henry Grey, appearances are everything, and years later, he still demands that his daughters reflect his standing in the community.

Winona, the oldest, needs her father's approval most of all. An overweight bookworm who never felt at home on the sprawling horse ranch that has been in her family for three generations, she knows that she doesn't have the qualities her father values. But as the best lawyer in town, she's determined to someday find a way to prove her worth to him.

Aurora, the middle sister, is the family peacemaker. She brokers every dispute and tries to keep them all happy, even as she hides her own secret pain.

Vivi Ann is the undisputed star of the family. A stunningly beautiful dreamer with a heart as big as the ocean in front of her house, she is adored by all who know her. Everything comes easily for Vivi Ann, until a stranger comes to town…

In a matter of moments, everything will change. The Grey sisters will be pitted against one another in ways that none could have imagined. Loyalties will be tested and secrets revealed, and a terrible, shocking crime will shatter both their family and their beloved town.

With breathtaking pace and penetrating emotional insight, True Colors is an unforgettable novel about sisters, rivalry, forgiveness, redemption–and ultimately, what it means to be a family.
Love books about sisters!
Metaphors Be With You: An A to Z Dictionary of History's Greatest Metaphorical Quotations by Mardy Grothe @Book Dilettante
Respected quotation anthologist and author of Oxymoronica and Viva la Repartee Dr. Mardy Grothe is at his best in Metaphors Be with You, an A to Z dictionary of 2,750 of history's greatest metaphorical quotations, meticulously curated for writers, readers, and quotation lovers everywhere.

In Metaphors Be with You, Dr. Mardy Grothe has created the definitive reference on English's finest metaphors, sourced from literature, politics, philosophy, Hollywood, religion, sports, comedy, history, religion, pop culture, and more. Arranged into two sections—"The Ten Best Things Ever Said" and "The Single Best Thing Ever Said"—Metaphors Be with You includes quotations on five hundred human interest topics and an introduction to the nature, importance, and sheer joy of metaphorical language.

Essential for writers, readers, and language aficionados, this breathtaking, beautifully designed sourcebook also contains elegantly integrated digital access to Dr. Mardy's Dictionary of Metaphorical Quotations, the world's largest online database of quotations containing metaphors, similes, and analogies. This one-of-a-kind synergy between print and technology offers a comprehensive look at the diversity of words and phrases we use to relate to, understand, and describe our world by providing access to detailed source information, innumerable "Error Alerts," and fascinating quotation backstories that will engage readers as they delve into metaphorical language and discover their own favorites.

Whether you're crafting a speech, writing a novel, or simply searching for new ways to express yourself, this remarkable compendium is sure to inspire you with the perfect metaphor every time.
Sounds interesting!
SERENA: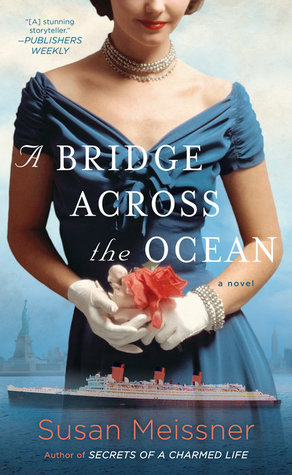 A Bridge Across the Ocean by Susan Meissner @Under My Apple Tree and BermudaOnion
February, 1946. World War Two is over, but the recovery from the most intimate of its horrors has only just begun for Annaliese Lange, a German ballerina desperate to escape her past, and Simone Deveraux, the wronged daughter of a French Resistance spy.

Now the two women are joining hundreds of other European war brides aboard the renowned RMS Queen Mary to cross the Atlantic and be reunited with their American husbands. Their new lives in the United States brightly beckon until their tightly-held secrets are laid bare in their shared stateroom. When the voyage ends at New York Harbor, only one of them will disembark…

Present day. Facing a crossroads in her own life, Brette Caslake visits the famously haunted Queen Mary at the request of an old friend. What she finds will set her on a course to solve a seventy-year-old tragedy that will draw her into the heartaches and triumphs of the courageous war brides and will ultimately lead her to reconsider what she has to sacrifice to achieve her own deepest longings.
Yes, another WWII book on my list!
The Wicked City by Beatriz Williams was also on my list this week.
What books caught your eyes this week?