At Mailbox Monday, we encourage participants to not only share the books they received, but also to check out the books received by others. Each week, our team is sharing with you a few Books That Caught Our Eye from that week's Mailbox Monday.
We are already in December, so this is my first time to post here. I'm thrilled to share with you what caught our eye this week.
A great way to fine tune your book list for Santa!
We encourage you to share the books that caught your eye in the comments.
EMMA:
Homecoming
, by Kate Morton,
found at 
Book'd Out
Adelaide Hills, Christmas Eve, 1959: At the end of a scorching hot day, beside a creek on the grounds of the grand and mysterious mansion, a local delivery man makes a terrible discovery. A police investigation is called and the small town of Tambilla becomes embroiled in one of the most shocking and perplexing murder cases in the history of South Australia.Sixty years later, Jess is a journalist in search of a story. Having lived and worked in London for almost twenty years, she now finds herself laid off from her full-time job and struggling to make ends meet. A phone call out of nowhere summons her back to Sydney, where her beloved grandmother, Nora, who raised Jess when her mother could not, has suffered a fall and been raced to the hospital.Nora has always been a vibrant and strong presence: decisive, encouraging, young despite her years. When Jess visits her in the hospital, she is alarmed to find her grandmother frail and confused. It's even more alarming to hear from Nora's housekeeper that Nora had been distracted in the weeks before her accident and had fallen on the steps to the attic—the one place Jess was forbidden from playing in when she was small.
At loose ends in Nora's house, Jess does some digging of her own. In Nora's bedroom, she discovers a true crime book, chronicling the police investigation into a long-buried tragedy: the Turner Family Tragedy of Christmas Eve, 1959. It is only when Jess skims through the book that she finds a shocking connection between her own family and this once-infamous crime—a crime that has never been resolved satisfactorily. And for a journalist without a story, a cold case might be the best distraction she can find…
An epic novel that spans generations, Homecoming asks what we would do for those we love, and how we protect the lies we tell. It explores the power of motherhood, the corrosive effects of tightly held secrets, and the healing nature of truth. Above all, it is a beguiling and immensely satisfying novel from one of the finest writers working today.
"I have devoured all of Morton's books. So cool to see a new one to come out next April.
And… it's available on Netgalley!!"
---
Night Flight to Paris
, by Cara Black
at 
Book Reviews by Linda Moore 
It is once again up to American markswoman Kate Rees to take the shot that just might win—or lose—World War II, in the followup to national bestseller Three Hours in Paris.
Three missions. Two cities. One shot to win the war.
October 1942: it's been two years since American markswoman Kate Rees was sent to Paris on a British Secret Service mission to assassinate Hitler. Since then, she has left spycraft behind to take a training job as a sharpshooting instructor in the Scottish Highlands. But her quiet life is violently disrupted when Colonel Stepney, her former handler, drags her back into the fray for a dangerous three-pronged mission in Paris.
Each task is more dangerous than the next: Deliver a package of penicillin to sick children. Assassinate a high-ranking German operative whose knowledge of secret invasion plans could turn the tide of the war against the Allies. Rescue a British agent who once saved Kate's life, and get out.
Kate will encounter sheiks and spies, poets and partisans, as she races to keep up with the constantly-shifting nature of her assignment, showing every ounce of her Oregonian grit in the process.
New York Times bestselling author Cara Black has crafted another heart-stopping thrill-ride that reveals a portrait of Paris at the height of the Nazi Occupation.–
"
Three Hours in Paris
 was Cara Black's foray into historical mystery,
and it was fabulous. So cool to see a sequel!"
---
MARTHA:
The Stationmaster's Cottage by Phillipa Nefri Clark
found at The Book Connection.
Christie is happy in her life… or so she tells herself. Despite a tragic childhood, she has built a satisfying career and loves her city apartment. But deep down she yearns for a simpler life. Family. A garden. And a place to heal her heart.
The decision to attend a funeral in a town she's never heard of throws her safe world into disarray, exposing the cracks in her life. As she deals with the fallout, Christie moves into a rundown cottage she's inherited and there, makes a discovery.
Fifty years ago, a heartbroken young artist waited each dawn on a jetty for his true love to return. And each night, he wrote her a love letter.
What Christie uncovers will change her life forever.
"I was drawn by the lovely cover and I like historical romance."
---
A Death in Tokyo by Keigo Higashino,
Giles Murray (Translator)
found at Book Dilettante.
In the latest from international bestselling author Keigo Higashino, Tokyo Police Detective Kaga is faced with a very public murder that doesn't quite add up, a prime suspect unable to defend himself, and pressure from the highest levels for a quick solution.
In the Nihonbashi district of Tokyo an unusual statue of a Japanese mythic beast – a kirin – stands guard over the district from the classic Nihonbashi bridge. In the evening, a man who appears to be very drunk staggers onto the bridge and collapses right under the statue of the winged beast. The patrolman who sees this scene unfold, goes to rouse the man, only to discover that the man was not passed out, he was dead; that he was not drunk, he was stabbed in the chest. However, where he died was not where the crime was committed – the key to solving the crime is to find out where he was attacked and why he made such a super human effort to carry himself to the Nihonbashi Bridge. That same night, a young man named Yashima is injured in a car accident while attempting to flee from the police. Found on him is the wallet of the murdered man.
Tokyo Police Detective Kyoichiro Kaga is assigned to the team investigating the murder – and must bring his skills to bear to uncover what actually happened that night on the Nihonbashi bridge. What, if any, connection is there between the murdered man and Yashima, the young man caught with his wallet? Kaga's investigation takes him down dark roads and into the unknown past to uncover what really happened and why.
A Death in Tokyo is another mind-bending mystery from the modern master of classic crime, finalist for both an Edgar Award and a CWA Dagger, the internationally bestselling Keigo Higashino.
"I like police procedurals and this got my interest in the series."
SERENA:
Happy Place
 by Emily Henry
foud at
Book'd Out
Harriet and Wyn have been the perfect couple since they met in college—they go together like salt and pepper, honey and tea, lobster and rolls. Except, now—for reasons they're still not discussing—they don't.
They broke up five months ago. And still haven't told their best friends.
Which is how they find themselves sharing a bedroom at the Maine cottage that has been their friend group's yearly getaway for the last decade. Their annual respite from the world, where for one vibrant, blissful week they leave behind their daily lives; have copious amounts of cheese, wine, and seafood; and soak up the salty coastal air with the people who understand them most.
Only this year, Harriet and Wyn are lying through their teeth while trying not to notice how desperately they still want each other. Because the cottage is for sale and this is the last week they'll all have together in this place. They can't stand to break their friends' hearts, and so they'll play their parts. Harriet will be the driven surgical resident who never starts a fight, and Wyn will be the laid-back charmer who never lets the cracks show. It's a flawless plan (if you look at it from a great distance and through a pair of sunscreen-smeared sunglasses). After years of being in love, how hard can it be to fake it for one week…in front of those who know you best?
"These Emily Henry books are always funny and entertaining.
They seem to make me happier when I read them, so I'd like to get this one on audio."
---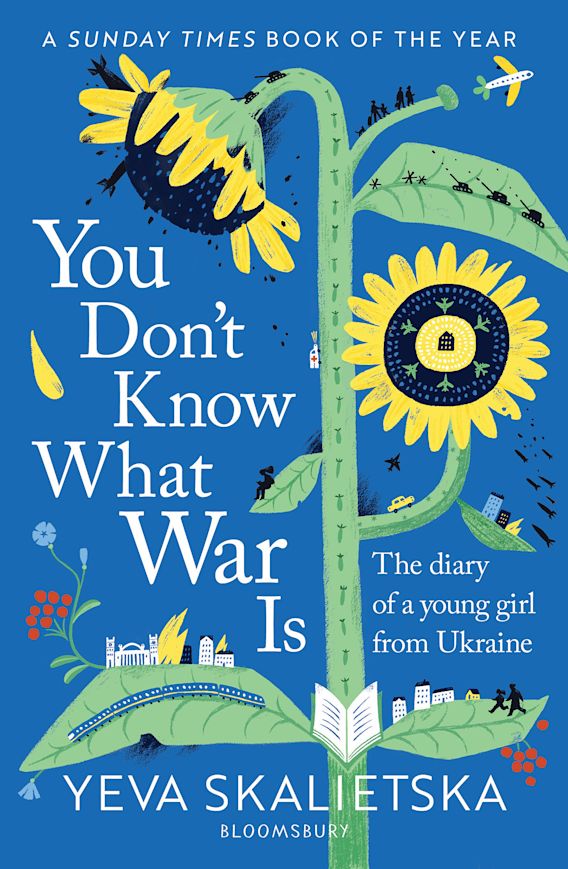 You Don't Know What War Is 
by Yeva Skalietska
found at
Sam Still Reading
 Yeva Skalietska, a girl living in the city of Kharkiv, turned 12 on February 14, 2022—a happy day. Ten days later, the only life she'd ever known was irrevocably shattered. On February 24, her city was suddenly under attack as Russia launched its horrifying invasion of Ukraine. Yeva and her family ran to a basement bunker, where she began writing a diary. She describes the bombings they endured while sheltering underground, and their desperate journey west to escape the conflict raging around them. After many endless train rides and a prolonged stay in an overcrowded refugee center in Western Ukraine, Yeva and her beloved grandmother eventually find refuge in Dublin. There, she bravely begins to forge a new life, hoping she'll be able to return home one day.
"This crisis in Ukraine has me very concerned,
especially when daughters similar in age to my own
are fleeing their home countries in order to be safe from harm and war."
📚📚📚
What books caught your eye this week?