At Mailbox Monday we encourage participants to not only share the books they received, but to check out the books others have received.
Every Wednesday we will each share two books that caught our eye from that week's Mailbox Monday.
We encourage you to share the books that caught your eye in the comments.
LESLIE: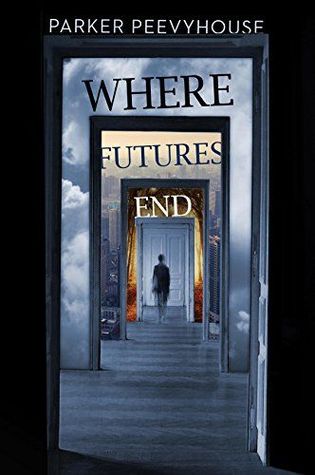 Where Futures End by Parker Peevyhouse @The Infinite Curio.
Five teens.
Five futures.
Two worlds.
One ending.

One year from now, Dylan develops a sixth sense that allows him to glimpse another world.

Ten years from now, Brixney must get more hits on her social media feed or risk being stuck in a debtors' colony.

Thirty years from now, Epony scrubs her entire online profile from the web and goes "High Concept."

Sixty years from now, Reef struggles to survive in a city turned virtual gameboard.

And more than a hundred years from now, Quinn uncovers the alarming secret that links them all.

Five people, divided by time, will determine the fate of us all. These are stories of a world bent on destroying itself, and of the alternate world that might be its savior–unless it's too late.
Alternate reality scifi – sounds good to me!
The Beauty of the End by Debbie Howells @Chick With Books.
"I was fourteen when I fell in love with a goddess. . ."

So begins the testimony of Noah Calaway, an ex-lawyer with a sideline in armchair criminal psychology. Now living an aimless life in an inherited cottage in the English countryside, Noah is haunted by the memory of the beguiling young woman who left him at the altar sixteen years earlier. Then one day he receives a troubling phone call. April, the woman he once loved, lies in a coma, the victim of an apparent overdose–and the lead suspect in a brutal murder. Deep in his bones, Noah believes that April is innocent. Then again, he also believed they would spend the rest of their lives together.

While Noah searches for evidence that will clear April's name, a teenager named Ella begins to sift through the secrets of her own painful family history. The same age as April was when Noah first met her, Ella harbors a revelation that could be the key to solving the murder. As the two stories converge, there are shocking consequences when at last, the truth emerges.

Or so everyone believes. . .
I enjoyed the author's last book and I'm looking forward to another great psychological thriller.
VICKI:
The Couple Next Door by Shari Lapena @Bakey's Book Blog
You never know what's happening on the other side of the wall.

Your neighbour told you that she didn't want your six-month-old daughter at the dinner party. Nothing personal, she just couldn't stand her crying.

Your husband said it would be fine. After all, you only live next door. You'll have the baby monitor and you'll take it in turns to go back every half hour.

Your daughter was sleeping when you checked on her last. But now, as you race up the stairs in your deathly quiet house, your worst fears are realized. She's gone.

You've never had to call the police before. But now they're in your home, and who knows what they'll find there.

What would you be capable of, when pushed past your limit?
Britt-Marie Was Here by Fredrik Backman @Chick With Books
From the bestselling author of the "charming debut" (People) A Man Called Ove and My Grandmother Asked Me to Tell You She's Sorry, a heartwarming and hilarious story of a reluctant outsider who transforms a tiny village and a woman who finds love and second chances in the unlikeliest of places.

Britt-Marie can't stand mess. She eats dinner at precisely the right time and starts her day at six in the morning because only lunatics wake up later than that. And she is not passive-aggressive. Not in the least. It's just that sometimes people interpret her helpful suggestions as criticisms, which is certainly not her intention.

But at sixty-three, Britt-Marie has had enough. She finally walks out on her loveless forty-year marriage and finds a job in the only place she can: Borg, a small, derelict town devastated by the financial crisis. For the fastidious Britt-Marie, this new world of noisy children, muddy floors, and a roommate who is a rat (literally), is a hard adjustment.

As for the citizens of Borg, with everything that they know crumbling around them, the only thing that they have left to hold onto is something Britt-Marie absolutely loathes: their love of soccer. When the village's youth team becomes desperate for a coach, they set their sights on her. She's the least likely candidate, but their need is obvious and there is no one else to do it.

Thus begins a beautiful and unlikely partnership. In her new role as reluctant mentor to these lost young boys and girls, Britt-Marie soon finds herself becoming increasingly vital to the community. And even more surprisingly, she is the object of romantic desire for a friendly and handsome local policeman named Sven. In this world of oddballs and misfits, can Britt-Marie finally find a place where she belongs?

Zany and full-of-heart, Britt-Marie Was Here is a novel about love and second chances, and about the unexpected friendships we make that teach us who we really are and the things we are capable of doing.
SERENA:
From the Heart: The Photographs of Brian Lanker by Brian Lanker, with a prologue by Maya Angelou @Rose City Reader
Brian Lanker saw more than most of us do. He saw opportunities in the moment, and he grabbed a camera, "the tool that was as quick and reflective as his brain," writes sports columnist and editor Blaine Newnham.

Newnham recommended Lanker's hire as picture director at the Eugene Register-Guard in 1974, just one year after Lanker had won the Pulitzer Prize for feature photography at age 24, for his photographs in the Topeka Capital-Journal of a couple bringing forth their second baby during natural childbirth. "I want to show people things they can't see, normally," Lanker said.

That quote from Brian Lanker, along with many others, can be found among the captions in these pages, all of which were researched and written by Mike Tharp, a war correspondent and award-winning journalist, with whom Lanker teamed up at the Topeka Capital-Journal and became lifelong friends.

From the Heart combines Tharp's captions with a striking selection of Lanker's photographs and a collection of essays written by Lanker's colleagues and friends, who for the most part were one and the same. These essays—thoughtful, poignant, funny, and respectful—tell the story of Lanker's bolting career start at the Topeka Capital-Journal, his ceaseless creativity, his driving work ethic, and his giving heart.

In her prologue, writer and poet Maya Angelou writes, "There was a generosity about Lanker, which allowed him to give himself to everyone as he was needed." Brian Lanker was a photojournalist with the eye of an artist. Some of his photographs are timeless, and others are wholly of their time. From the Heart is a tribute to his singular vision, and a moving portrait of both man and artist.
I cannot resist books about or with photographs. This one was not to be missed by me this week.
The Jane Austen Guide to Life by Lori Smith @The Edge of the Precipice
The Jane Austen Guide to Life playfully and poignantly examines Austen's life and novels for the timeless advice that still applies for today's women. Austen may not understand texting or tweeting or platform heels, but as an astute student of human nature, she can surely teach us an awful lot about ourselves–and we might just be surprised by what she has to say.
It's about Jane Austen; I cannot resist it.
What books caught your eyes this week?