At Mailbox Monday we encourage participants to not only share the books they received, but to check out the books others have received.
***Sorry for the delay this week, my house is still recuperating from a series of illnesses. ***
Every Wednesday we will each share two books that caught our eye from that week's Mailbox Monday.
We encourage you to share the books that caught your eye in the comments.
LESLIE:
Three-Martini Lunch by Suzanne Rindell @Luxury Reading.
In 1958, Greenwich Village buzzes with beatniks, jazz clubs, and new ideas—the ideal spot for three ambitious young people to meet. Cliff Nelson, the son of a successful book editor, is convinced he's the next Kerouac, if only his father would notice. Eden Katz dreams of being an editor but is shocked when she encounters roadblocks to that ambition. And Miles Tillman, a talented black writer from Harlem, seeks to learn the truth about his father's past, finding love in the process. Though different from one another, all three share a common goal: to succeed in the competitive and uncompromising world of book publishing. As they reach for what they want, they come to understand what they must sacrifice, conceal, and betray to achieve their goals, learning they must live with the consequences of their choices. In Three-Martini Lunch, Suzanne Rindell has written both a page-turning morality tale and a captivating look at a stylish, demanding era—and a world steeped in tradition that's poised for great upheaval.
Love the time period and really enjoyed the author's last book, The Other Typist.
Thing Explainer: Complicated Stuff in Simple Words by Randall Munroe @The Infinite Curio.
In Thing Explainer: Complicated Stuff in Simple Words, things are explained in the style of Up Goer Five, using only drawings and a vocabulary of the 1,000 (or "ten hundred") most common words. Explore computer buildings (datacenters), the flat rocks we live on (tectonic plates), the things you use to steer a plane (airliner cockpit controls), and the little bags of water you're made of (cells).
Science humor at its best!
VICKI: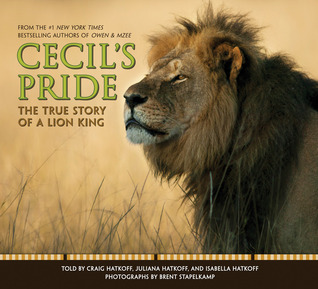 Cecil's Pride: The True Story of a Lion King by Craig Hatkoff, Juliana Hatkoff, and Isabella Hatkoff @Savvy Verse & Wit
Known as the King of Beasts, the lion has always been a symbol of strength and courage. But there was one real lion that earned the title of Lion King. He was known simply by name: Cecil. News of his tragic death spread across the globe like wildfire, raising questions to an unprecedented level about our relationship to our animals and our planet.

Cecil's Pride is a tale of resilience and responsibility–a triumph out of tragedy. Discover Cecil's struggle as a young lion to survive, his rise to power, and his extraordinary alliance with Jericho, his former arch-rival. Cecil is gone, but his legacy lives on. The world knows the story of how Cecil died. This is the story of how he lived.

Complete with stunning photographs by Brent Stapelkamp, a photographer and lion researcher with the Oxford University Wildlife Conservation Research Unit that has tracked Cecil and his pride for nine years.
I'm a animal lover, so I love books like this.
The Big Fear by Andrew Case @Fiction Books
It's August in New York, and the steaming garbage littering the streets isn't the only thing that stinks.

Civilian investigator Leonard Mitchell can keep his job as the new head of the Department to Investigate Misconduct and Corruption only by successfully prosecuting veteran cop Ralph Mulino.

Mulino shot an armed man on a dark night; he didn't know the man was a fellow cop. Now, to keep his badge and his freedom, he has to make his case to the investigator. But the gun Mulino saw in his victim's hand has disappeared.

As Mitchell digs deeper into Mulino's claim, it becomes clear that the "misconduct and corruption" infecting New York City go far beyond the actions of one allegedly dirty cop. Murder and sabotage force Mulino and Mitchell into an uneasy partnership to uncover the truth and protect the city they are both sworn to serve.

Assuming, of course, they can stay alive…
Murder mystery & New York. What's not to like?
SERENA:
Only in Naples: Lessons in Food and Famiglia from My Italian Mother-in-Law by Katherine Wilson @I'd Rather Be at the Beach
In the tradition of M. F. K. Fisher and Peter Mayle, this enchantingly warm and witty memoir follows American-born Katherine Wilson on her adventures abroad, where a three-month rite of passage in Naples turns into a permanent embrace of this boisterous city on the Mediterranean. It is all thanks to a surprising romance, a new passion for food, and a spirited woman who will become her mother-in-law—and teach her to laugh, to seize joy, and to love.
This just sounds great. I love books with travel and food.
The Last Goodnight: a World War II Story of Espionage, Adventure & Betrayal by Howard Blum @Book Dilettante
The New York Times bestselling author of the acclaimed Dark Invasion, channels Erik Larson and Ben Macintyre in this riveting biography of Betty Pack, the dazzling American debutante who became an Allied spy during WWII and was hailed by OSS chief General "Wild Bill" Donovan as "the greatest unsung heroine of the war."

Betty Pack was charming, beautiful, and intelligent—and she knew it. As an agent for Britain's MI-6 and then America's OSS during World War II, these qualities proved crucial to her success. This is the remarkable story of this "Mata Hari from Minnesota" (Time) and the passions that ruled her tempestuous life—a life filled with dangerous liaisons and death-defying missions vital to the Allied victory.

For decades, much of Betty's career working for MI-6 and the OSS remained classified. Through access to recently unclassified files, Howard Blum discovers the truth about the attractive blond, codenamed "Cynthia," who seduced diplomats and military attachés across the globe in exchange for ciphers and secrets; cracked embassy safes to steal codes; and obtained the Polish notebooks that proved key to Alan Turing's success with Operation Ultra.

Beneath Betty's cool, professional determination, Blum reveals a troubled woman conflicted by the very traits that made her successful: her lack of deep emotional connections and her readiness to risk everything. The Last Goodnight is a mesmerizing, provocative, and moving portrait of an exceptional heroine whose undaunted courage helped to save the world.
I cannot resist WWII books, nonfiction or fiction books.
What books caught your eye?