At Mailbox Monday we encourage participants to not only share the books they received, but to check out the books others have received.
Every Wednesday we will each share two books that caught our eye from that week's Mailbox Monday.
We encourage you to share the books that caught your eye in the comments.
LESLIE:
Lily and the Octopus by Steven Rowley @Sam Still Reading
Lily and the Octopus is a novel about finding that special someone to share your life with. For Ted Flask, that someone is Lily, and she happens to be a dog. This novel reminds us how to love fiercely, how difficult it can be to let go and how the fight for those we love is the greatest fight of all.

Reminiscent of The Life of Pi and The Art of Racing in the Rain, with spins into magic realism and beautifully evoked universal truths of love, loyalty and loss, a hilariously sardonic and not altogether reliable narrator, and one unforgettable hound who simple wisdom will break your heart and put it back together again, Lily and the Octopus captures the search for meaning in death and introduces a dazzling new voice in fiction
VICKI: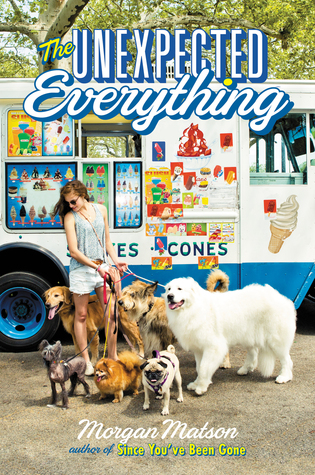 The Unexpected Everything by Morgan Matson @Infinite Curio
Andie had it all planned out.

When you are a politician's daughter who's pretty much raised yourself, you learn everything can be planned or spun, or both. Especially your future.

Important internship? Check.

Amazing friends? Check.

Guys? Check (as long as we're talking no more than three weeks).

But that was before the scandal. Before having to be in the same house with her dad. Before walking an insane number of dogs. That was before Clark and those few months that might change her whole life.

Because here's the thing—if everything's planned out, you can never find the unexpected.

And where's the fun in that?
I'd love to be a dog walker, so I wanted to read this the second I saw the cover, and loved the blurb too.
Live and Let Growl (Melanie Travis #19) by Laurien Berenson @Lori's Reading Corner
"If you like dogs, you'll love Laurien Berenson's Melanie Travis mysteries!" –Joanne Fluke, New York Times bestselling author

When her Aunt Peg lands a gig as judge at a Kentucky dog show, Melanie Travis welcomes the opportunity for a road trip. Too bad a killer has planned a deadly detour . . .

For a dog lover like Melanie, the opportunity to attend the Kentuckiana Dog Show Cluster is not to be missed. Fortunately, the timing coincides with her spring break from teaching, so she heads for central Kentucky with her sister-in-law Bertie and Aunt Peg, who's accepted a week-long judging assignment. Once there, Aunt Peg reconnects with an old friend, Ellie Gates Wanamaker, a former Standard Poodle exhibitor and a member of a well-heeled Kentucky family. Miss Ellie has been out of the dog show world for more than a decade, but when Melanie invites her to spectate at the Louisville Kennel Club dog show, she's eager to accompany her.

Miss Ellie's presence at the expo center, however, provokes mixed reactions from exhibitors she hasn't seen in years, including some outright animosity. The following day Melanie learns that Miss Ellie has suffered a fatal accident while exercising her dogs. Aunt Peg, however, suspects foul play. Wishing to avoid any scandal, Miss Ellie's pedigreed family prefers to let sleeping dogs lie, but as Melanie begins to sniff around, she discovers Miss Ellie had many secrets, both in the dog show world and amongst her Kentucky kin…
Most people who know me know that I don't like reading books in a series out of order. But…See that cover? How could any dog lover pass on this book? See that this is the 19th book in the series? I don't even care!
SERENA: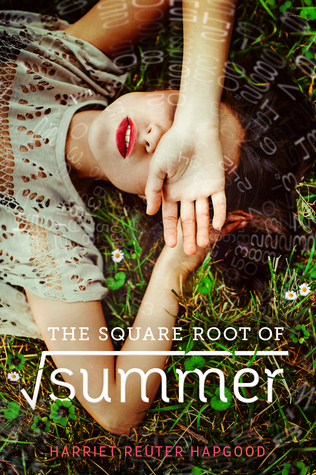 The Square Root of Summer by Harriet Reuter Hapgood @Infinite Curio
Gottie H. Oppenheimer is losing time. Literally. When the fabric of the universe around her seaside town begins to fray, she's hurtled through wormholes to her past:

To last summer, when her grandfather Grey died. To the afternoon she fell in love with Jason, who wouldn't even hold her hand at the funeral. To the day her best friend Thomas moved away and left her behind with a scar on her hand and a black hole in her memory.

Although Grey is still gone, Jason and Thomas are back, and Gottie's past, present, and future are about to collide—and someone's heart is about to be broken.

With time travel, quantum physics, and sweeping romance, The Square Root of Summer is an exponentially enthralling story about love, loss, and trying to figure it all out.
This sounds too fascinating to ignore!
A Week in Paris by Rachel Hore @Lori's Reading Corner
1961: Born on the day that WW2 broke out, 21-year-old Fay Knox cannot remember her early childhood in London, before she moved to a Norfolk village with her mother, Kitty. Though she has seen a photograph of her father, she does not recall him either. He died, she was told, in an air raid, and their house destroyed along with all their possessions. Why then, on a visit to Paris on tour with her orchestra, does a strange series of events suggest that she spent the war there instead? There is only one clue to follow, an address on the luggage label of an old canvas satchel. But will the truth hurt or heal?

1937: Eugene Knox, a young American doctor, catches sight of 19-year-old Kitty Travers on the day she arrives in Paris, and cannot get her out of his mind. She has come to study the piano at the famed Conservatoire, and lodges at a convent near Notre Dame. Eugene and Kitty will fall in love, marry and have a daughter, but France's humiliating defeat by Germany is not far behind, and the little family must suffer life under Nazi occupation. Some Parisians keep their heads down and survive, others collaborate with the enemy while others resist. The different actions of Eugene, Kitty and their friends will have devastating consequences that echo down the generations
I cannot resist novels set even partially during WWII.
What books caught your eye this week?